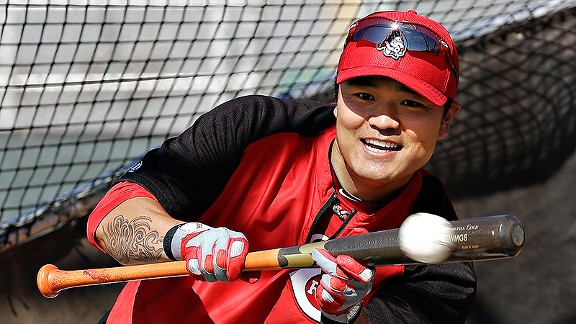 When the Reds acquired
Shin-Shoo Choo
from the Indians this offseason many believed Cincinnati basically swapped better offensive production from the leadoff spot in exchange for a shaky, unproven, defensive center fielder. Count former general manager and current ESPN writer Jim Bowden as one of them.
The Reds have struggled to find a legitimate leadoff hitter for several years now. And the decision by general manager
Walt Jocketty
to trade for Choo is the team's solution for the aforementioned struggles. However, there are plenty of baseball pundits already questioning whether or not Choo can play the center field position effectively. In fairness, the 8-year veteran has appeared in only 10 games there in his Major League career, so it is not hard to see why some folks may be skeptical.
In a piece published on Tuesday, Bowden calls the Reds' plan to insert Choo as the everyday center fielder a mighty gamble. He was so initially puzzled by the move that he sought out the professional opinion of 15 baseball scouts and evaluators to help make sense of it all.
After watching Choo play right field the past two years, it didn't make any sense. I thought I must be missing something so I called major league scouts who were assigned to evaluate him and the Indians' major league club. Then I called people in the Indians' organization -- players, coaches, managers and front-office executives -- to get their opinions.

The consensus among the 15 baseball evaluators in and out of the Indians organization was Choo did play a Gold Glove-caliber right field for the Indians in 2010. Over the past two years, however, he was shaky, very tentative and playing as though he did not want to get hurt. His routes and angles weren't very good, and he took too long to get rid of the baseball.
Indeed, most of the 15 evaluators said they didn't think he could play center field, while others called it a "stretch." It's possible the Reds are making the right call and these 15 evaluators are wrong, but I doubt that many baseball people would miss on Choo's defense. Even Choo himself said Monday he is still "uncomfortable" playing center field. Obviously, it's never a good sign when a player doesn't feel confident playing the position to which he's assigned.
Whether or not the 30-year-old will end up being an effective defender at his new position remains to be seen, but Cincy does have options in case he doesn't pan out there.
One potential solution could be to swap Gold Glove right fielder
Jay Bruce
with Choo in center. Although Bruce doesn't have quite the range as the team has enjoyed with Stubbs over the past few seasons, he would provide a solid option. Bruce has already expressed a willingness to shift over to center if the Reds need him to.
Another possibility for the Reds includes trading Choo at the midseason deadline. As strange as it may seem to trade a player that you just acquired, it may not be a bad idea for the Reds to consider it in Choo's unique case. Choo doesn't figure to be a Red beyond this season under his current one-year deal, and will be looking to score a big contract with the aid of rockstar agent Scott Boras once he hits the free agent market next winter. Plus, the Reds already have a center field plan for the future in place with top prospect
Billy Hamilton
. So, in a way, Choo may prove to be somewhat expendable.
Speaking of Hamilton, he provides Jocketty with a third option in case Choo's glove work in center isn't up to par. Here is a snippet of what Bowden had to say about the speedster:
And that's their real solution -- prospect Billy Hamilton will arrive in Cincinnati some time in 2013. Once he learns how to play center field after converting from shortstop, he'll be the long-term solution at the leadoff spot and in center field. He has the potential to steal 100 bases at the major league level, and his impressive OBP in the minor leagues is a good trend indicator. There's little doubt he's going to hit; he has excellent bat speed and loud contact. Defensively, he should be able to run down fly balls in the gap.
As you can see, Bowden is high on Hamilton, as is most of every other MLB scout who has seen him play. Seriously, how could you not be impressed by a guy who steals 155 bases in one season?
Even despite calling the shrewd move by the Reds to move Choo a risk, Bowden still admitted that it is a risk worthwhile. However, the manner in which he presents his case may lead some to believe otherwise. Reds fans have claimed in the past that Bowden has a grudge against his former team, which often shows up in articles such as this one, they claim.
Although I will admit that he has made some questionable comments and remarks before, Bowden seems to hold a neutral view on all teams, in my opinion. He gives credit where credit is due and provides scrutiny where he sees fit, just as any other baseball writer does. Choo could turn out to be an excellent center fielder, but it is silly to discredit anyone who currently thinks otherwise. In fact, there is probably a good percentage of Reds fans who are questioning Choo's ability to play center, as well. The test of time will reveal the highly-anticipated answer.