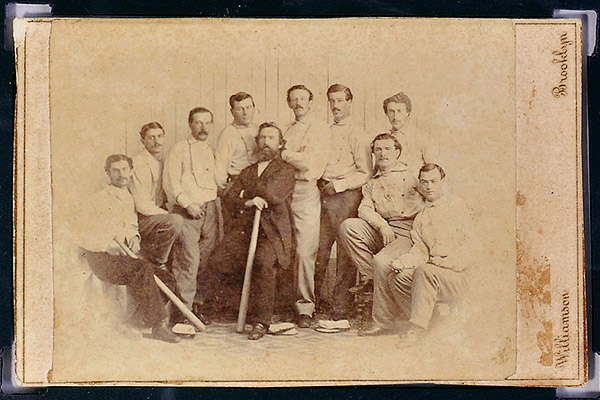 The oldest baseball card known to mankind sold for $92,000 at an auction on Wednesday evening.
The 148-year-old card, which depicts the Brooklyn Atlantics amateur baseball club, was sold to Jason LeBlanc of Newburyport, Mass. by Saco River Auction Co. LeBlanc said he bought the piece of history as an investment for his young son.
Bidding began at $10,000 and eventually rose to the final price tag of $92,000, which included an 18 percent premium.
A Maine man who doesn't want to be publicly identified found the card inside an old photo album he bought while antique picking in the small town of Baileyville on the Canadian border. The man bought the photo album, old Coca-Cola bottles and a couple of oak chairs together in a single purchase for less than $100, Thibodeau said.
The card isn't the same as a modern-day baseball card, which became common in the 1880s. Rather, it's an original photograph from 1865 mounted on a card, showing nine players and a manager.

The Library of Congress said last month it was aware of only two copies of the photo. The other is in the institution's collection.
In its book "Baseball Americana," the Library of Congress calls the item the first dated baseball card, handed out to supporters and opposing teams in a gesture of bravado from the brash Brooklynites, who were dominant and won their league championships in 1861, 1864 and 1865.
Experts weren't sure how much the card would sell for, but the manager and auctioneer at Saco River said he was pleased with the final price.
The most expensive baseball card ever sold was a 1909 Honus Wagner card, which went for a whopping $2.8 million in 2007.
The Cincinnati Red Stockings are considered to be the first professional baseball team ever assembled after fielding a roster of ten salaried players in 1869. They remain the only professional baseball team to date to record an undefeated season after posting a 65-0 mark during the 1869 campaign.
Via
ESPN