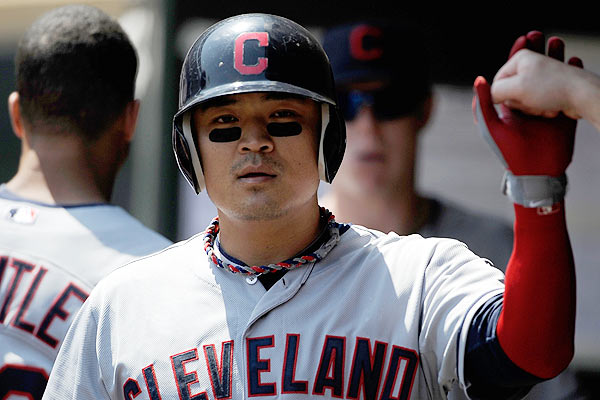 by: Chase Fitzgerald
Staff Writer
1.
Mike Trout
Last season's stats: HR: 30 RBI: 83 AVG: .326 OPS: .963 OBP: .399 SLG: .564
Trout is not only far and away the best center fielder in the game, but he is the best player in the game as well. The rookie of the year and AL MVP runner up had just an incredible season that made all baseball statisticians fall in love with him. Trout led the league in pretty much every advanced stats including WAR which was an amazing 10.7. His ability to get from first to third is incredibly valuable using his speed to completely change games. He stole 49 bases and was only caught 5 times which is basically not human. He led all CF in WAR, OPS, SLG, SB, and runs along with leading the league in some of those categories. He also had 30 homers and 83 RBIs which was enough to earn him his first Silver Slugger. The scary part about Mike Trout isn't his speed, fielding, or even his power, but that he is only 21 years old. He can still get better. He lost out on the MVP this season but for a 21 year old, being even in the discussion is an outstanding achievement. Trout will accomplish great things and I can't wait to see how he progresses next year.
2.
Matt Kemp
Last season's stats: HR: 23 RBI: 69 AVG: .303 OPS: .906 OBP: .367 SLG: .538
Matt Kemp was robbed of the MVP trophy in 2011 and looked to be on his way to finally getting his in 2012 when he began the season hitting 12 homeruns in just 84 at bats while having a 1.383 OPS before his season was derailed by injuries. I know he wasn't going to keep up those numbers, but he had a lot of leg run to put together a great season. Kemp finished the year with a .905 OPS and 23 homers which is still impressive if you take in the fact that he battled through injuries the entire season. We all could see what Kemp was capable of in 2011 and I expect him to be one of the frontrunners for the MVP next season if he stays healthy. The Dodgers have started getting a lot of solid hitters in front of him so he will have a lot of opportunities to hit with men on base and post some very nice power stats as I don't expect him to waste those opportunities. Kemp is one of the top 10 players in all of baseball and I'm very excited to see what Kemp has in store for us next season.
3.
Andrew McCutchen
Last year's stats: HR: 31 RBI: 96 AVG: .327 OPS: .953 OBP: .400 SLG: .553
You can't help but feel bad for Cutch who has been on a losing team his entire career but, things are starting to change in Pittsburgh mostly thanks to their center piece: Andrew McCutchen. They haven't had a winning season in a long time but they had a solid team last season and will probably have on again this year. Cutch has been leading the winning movement and his MVP type season last year was just a sign of things to come. Cutch led all CF in AVG, OBP, homeruns, hits, and second in many other categories thanks to Mike Trout. He finished third in MVP voting thanks to his breakout season that earned him his first Silver Slugger and Gold Glove. Andrew McCutchen is one of the most exciting players in all of baseball and if anyone can lead the Pirates to a winning season, it's him.
4.
Adam Jones
Last year's stats: HR: 32 RBI: 82 AVG: .287 OPS: .839 OBP: .334 SLG: .505
Adam Jones is one of my favorite players in the MLB and also one of the best personalities in baseball. He is a guy you would love to have in your team's clubhouse and he isn't too bad of a ballplayer either. He is an all around great player which includes being one of the best fielders in the league and he has two Gold Gloves to show for that. His numbers aren't off the charts all though he did hit 32 homeruns which was second among center fielders and, along with that and his 39 doubles; he was one of the three CF to have a slugging of over .500. Jones had a very solid season but he can accomplish much more. He has the potential to be one of the best players in the league and I wouldn't love anything more than to see him reach it.
5.
Dexter Fowler
Last year's stats: HR: 13 RBI: 53 AVG: .300 OPS: .863 OBP: .389 SLG: .474
Fowler has always been a stable player usually getting what you expect out of him but he progressed greatly this season raising his OPS from .795 to .863 and raising his average almost 40 points. He was top 5 among center fielders in OPS, AVG, OBP, and BB and with him being 26 and coming out of his shell; he has added another great piece to the Rockies young core which already includes Tulo and Cargo. He isn't the best fielder with him committing 6 errors last season but he is only 26 and should improve. The reason I chose him over Jackson was because even though both had pretty much equal seasons, Fowler in the past has been good which can't be said for Jackson who had a .691 OPS the year before. The Rockies are open to signing Fowler long term and if anyone has earned it it's him.
6.
Austin Jackson
Last year's stats: HR: 16 RBI: 66 AVG: .300 OPS: .856 OBP: .377 SLG: .479
Jackson is another player who experienced a breakout season coming up big in the Tiger's playoff run. Jackson proved to be a more than capable leadoff and being very valuable to his team which is 5.3 WAR proves. He rebounded nicely off a terrible 2011 raising his OPS by almost 200 points and batting .300. His speed though, went way down with him being successful only 12 times out of 21 attempts. His power went way up raising his slugging from .374 to .479 and tallying a career high 66 RBIs and 16 homeruns. Jackson is also one of the best defenders in the league making tons of highlight reel catches while only committing one error this season. He was robbed of a Gold Glove but he should get one very soon. The only thing that scares me about Jackson is that this was just one season. This could be a fluke year but only time will tell.
7.
Curtis Granderson
Last year's stats: HR: 43 RBI: 106 AVG: .232 OPS: .811 OBP: .319 SLG: .492
Granderson was a huge disappointment this year after having a huge 2011 hitting only .232 and having a .811 OPS. Even though pretty much all of his stats went down, his power numbers were more than still there hitting 43 homers and racking up 106 RBIs both easily leading all center fielders. Granderson is a low average power hitter and I think the Yankees are more than ok with that. The reason Granderson is 7th despite his huge power numbers is because of his extremely low average. The voters and I agreed that a player with that low of an average shouldn't be high but Granderson, in my opinion, is way better than his .232 average from last season which is why I expect that and his .811 OPS to go up and for him to have a bounce back year.
8.
Michael Bourn
Last year's stats: HR: 9 RBI: 57 AVG: .274 OPS: .739 OBP: .348 SLG: .391
Michael Bourn is one of the fastest players in the league but the probably with his game is he relies on is speed. Without his speed, he is just a round-a-bout .270 hitter with a .704 career OPS. His speed though, can change games. He has led the NL in stolen bases the past two seasons and he is one of the best defenders in the game with being no ball he can't track down. He was second among CF with a 6.0 WAR and is one of the best lead-off hitters in the game. Teams though, seem to agree with me that Bourn's game is mostly speed since he is still a free agent thanks to his high asking price but he should settle and find a team soon. Even though I criticize Bourn, I would love to have a dynamic player like him on my team and I always hate playing against him.
9.
Shin-Soo Choo
Last year's stats: HR: 16 RBI: 67 AVG: .283 OPS: .814 OBP: .373 SLG: .441
Even though he played right field last year, Choo was traded to the Reds and will be their new center fielder which is why he is on this list. Choo had a great bounce back year after coming off an injury riddled 2011 but wasn't quite himself. He had a low OPS for Choo but he did get back on the right track after a rough 2011. He still had a good 2012 with an OPS of .814 which many players would take and Choo still remains one of the best at getting on base. His OBP is 5th among center fielders and I expect that to improve greatly this year. Even though Choo is only 9th on the list, if he returns to his 2008-2010 form, he could sky rocket up the list and be one of the most sought after free agents in 2013. He certainly has the potential to do so.
10.
Angel Pagan
Last year's stats: HR: 8 RBI: 56 AVG: .288 OPS: .778 OBP: .338 SLG: .440
Angel Pagan much like the rest of the Giants put together a great season and played probably the best ball of his career to be a key component in the Giants playoff run. His .778 OPS doesn't tell the whole story as Pagan always came through when the Giants needed it including making a diving catch to stop a rally in game 5 of the NLDS and always having that clutch hit when they needed it. Pagan's WAR, OPS, SLG, and AVG were all top ten among center fielders which earned him a 3 year 20 million dollar contract from the Giants. The 31 year old still has a lot of baseball left in him and he should at least repeat his numbers from last year.