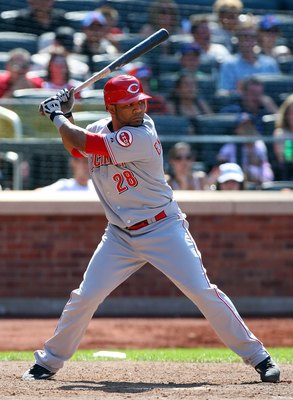 By: Chase Fitzgerald
Staff Writer
1.
David Ortiz
Last season's stats: HR: 23 RBI: 60 AVG: .318 OPS: 1.026 OBP: .415 SLG: .611
Even with Ortiz being on the wrong side of 35, he still puts up incredible numbers and remains the best DH in the league. Injuries slowed him down this season as he only had 324 at bats but he made the most of them. He had an OPS of 1.026 which would have led all of baseball if he had enough at bats to qualify and an average of .318 which would have led all DH's if qualified. Despite having half the at bats as some players he still was second among DH's in WAR. Ortiz will remain with the Red Sox for two more seasons and it doesn't look like he is going to slow down. In his 15 year career, he has had 8 seasons with an OPS of over .899 and that includes 4 seasons with it being over 1. It's safe to say Ortiz hasn't lost a step.
2.
Billy Butler
Last season's stats: HR: 29 RBI: 107 AVG: .313 OPS: .882 OBP: .373 SLG: .510
In Butler's very young and successful career, he has been very consistent but in 2012, Butler finally moved into the elite group of DH's. He was elected to be in the All star game which was well deserves having an OPS of .883 and batting .313. Butler also passed 100 RBIs for the first time in his career which will definitely not be his last. People seem to forget that Butler is only 26 and has loads of potential. I could realistically see him hitting 100 RBIs, 30 homeruns, and batting .300 a season. Butler led all qualified DH's in OPS, SLG, AVG, OBP, and doubles. Butler's breakout season earned him his first Silver Slugger which is just one of the many signs that Butler will have a great career.
3.
Edwin Encarnacion
*
Last season's stats: HR: 42 RBI: 110 AVG: .280 OPS: .941 OBP: .384 SLG: .557
Edwin Encarnacion came out of absolute nowhere in 2012 as he shocked the world with a huge season. Encarnacion had career highs in just about every category and just had an outstanding 2012. He had a mediocre career before last season having a career OPS of around .750. He showed surprising power hitting 42 homeruns which was 4th in the AL and a .557 slugging which was 5th in the AL. Including those two stats, Encarnacion's OPS and RBIs were also top 5 in the American League. Encarnacion had without a doubt the best season out of anyone on the list but the reason he is not higher is because this was just one season. This season could easily end up being a fluke so he'll have to prove it to me and the rest of the voters if he is ever going to rise to that number 1 spot.
4.
Adam Dunn
*
Last season's stats: HR: 41 RBI: 96 AVG: .204 OPS: .800 OBP: .333 SLG: .468
After Encarnacion, there is a considerable drop off but that doesn't take away the amazing comeback year Dunn had. Dunn had had an amazingly bad 2011 season where he hit .159, had a .569 OPS, and had a -3.1 WAR. Dunn though rebounded incredibly off the fluke year bringing his OPS back over .800 and hitting 41 homeruns while almost leading the White Sox to a playoff berth. The Big Donkey was awarded for his play by being elected to participate in the All Star game and being nominated for a Silver Slugger. He was 5th in the AL in homers, 10th in RBIs, and 1st in the entire major leagues in walks. Dunn defines the DH position being a low average power hitter but he does it better than anyone. He may hit .204 but he makes up for that by drawing a lot of walks and having an OBP of .333. This season showed that Dunn still has some life left in his career and I can't wait to see what he does next year.
5.
Chris Davis
Last season's stats: HR: 33 RBI: 85 AVG: .270 OPS: .827 OBP: .326 SLG: .501
Chris Davis was another breakout player last season with his play leading the Orioles to a playoff berth. He always had the clutch hit when they needed it having an OPS of .958 with runners on base and a .852 OPS with RISP with two outs. David was willing to do anything to help the Orioles win and that includes pitching. Davis showed a lot of people that DH's can do a lot more than just hit when he pitched two innings and got the win for the Orioles. Chris Davis had his first full official major league season and he definitely made the most of his opportunity slugging 33 homeruns with was good for 8th in the AL and tallying 85 RBIs. David has loads of potential being over 26 and it's going to be fun watching him and Butler rule the DH position for years to come.
6.
Jim Thome
Last season's stats: HR: 8 RBI: 25 AVG: .252 OPS: .786 OBP: .344 SLG: .442
Jim Thome has defined the DH position the last 7 years and even though he has slowed down, he is still better than most. Thome has been getting limited at bats as career slowly comes to a close but even with his age, he still has only posted one season in the past nine years where he had an OPS of lower than .800. Last season his was at .786 thanks to a slow start but in the second half of the season with the Phillies he really kicked it up a notch having an OPS of .854. Thome will be going to the Orioles next season so he won't be able to DH as much as he likes with Chris Davis blocking the way, but whatever role Thome ends up being in I'm very confident he'll thrive in it.
7.
Kendrys Morales
Last season's stats: HR: 22 RBI: 73 AVG: .273 OPS: .787 OBP: .320 SLG: .467
Kendrys Morales has had one very successful year in his career which was 2009 where he hit 34 homers, over 100 RBIs, and had an OPS of .924. He has been regressing every season since then which is why I cannot put him any higher on the list. His OPS has gone down every single year since then thanks to an ankle injury that forced him to miss most of 2010 and all of 2011. He did rebound nicely off it this year with a solid .787 OPS but it is obvious that he wasn't the player that we saw in 2009. This provoked the Angels to not re-sign him after the 2012 year and you can't help but feel bad for the guy. Even with his unlucky break he still is easily a top-10 DH and I would love nothing more than to see him have a huge 2013 with the Mariners.
8.
Travis Hafner
Last season's stats: HR: 12 RBI: 34 AVG: .228 OPS: .784 OBP; .346 SLG: .438
Hafner's career is another one that is on its way down. It only seemed like yesterday when Hafner had an OPS above 1 in back to back seasons. He tallied 100 RBIs for four straight years but since the 4th he hasn't even been able to reach 60. His power all of a sudden vanished and he has seemed to get injured every season. His long time team, the Indians, was forced to not re-sign him and Hafner has chosen to sign with the Yankees. Hafner has had a solid OPS in the few games he has played and I know it's a long shot but if he can stay healthy, I see him thriving in New York. Of course not as good as his old form but a solid contributor.
9.
Jesus Montero
Last season's stats: HR: 15 RBI: 62 AVG: .260 OPS: .685 OBP: .298 SLG: .386
Jesus Montero has not been at all what the Mariners expected when trading for him. He was the number 1 catching prospect in all of baseball but was forced to spend most of his time at DH because of his poor fielding. His fielding though wasn't the only problem. He had an OPS of .685 which was one of the lowest in the league but he is 23 and he will learn. Despite his low OPS, he hit a solid 15 homeruns with 62 RBIs. Jesus did thrive hitting 5th in the order having an OPS of .885 there which may be a sign of better things to come. Montero was one of the top ten prospects in baseball for a reason so you have to believe he will turn it around.
10.
Luke Scott
Last season's stats: HR: 14 RBI: 55 AVG: .228 OPS: .724 OBP: .285 SLG: .439
After having a string of good years which included hitting for the cycle and being named the MVP of the 2010 Orioles team has struggled the past two years never hitting over .230 and failing to get his power back. Because of all this, Scott is now a free agent but I think he deserves another shot. We have all seen what he can do and that is be a very solid hitter always providing that clutch hit when needed with his .278 average with runners in scoring position. Scott has always been one of my favorite players and it hasn't been fun watching his career slowly come to a close. I don't believe he'll find a new team in time for the season but if he does, expect him to make the most of it.
*Former Reds