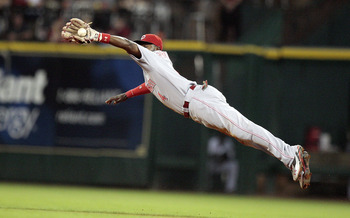 It is no secret that the Reds boast one of baseball's premier defenses. But how do they rank among the other 29 MLB teams?
Anthony Castro
vince of
MLB.com
set out to answer this precise question by publishing his ranking of the
top 10 defenses
on Thursday.
Naturally, Cincinnati landed in the No. 3 overall spot and first among all other National League clubs.
Here is how he justified his selection:
3. Reds: The Reds registered the fifth-highest number of defensive runs saved in the Majors last season. The key was being strong up the middle, as second baseman Brandon Phillips, shortstop Zack Cozart and catcher Ryan Hanigan each ranked among the best at his position in DRS. This was especially impressive for Cozart, who made an instant impact in his rookie year. The Reds also had pitchers who fielded well, saving more defensive runs than any other staff in the game. The big question for the Reds is how well Shin-Soo Choo, who had an uncharacteristically miserable defensive season with the Indians, will transition to center field, where he's barely played in the big leagues. In a free-agent walk year, Choo might be tentative in his outfield play.
Dusty Baker
's bunch committed the second-fewest errors in the league last season with only 89. Their .985 fielding percentage was tied for second-best.
Apparently, Castrovince has been running a week-long series of top 10 lists. The Reds also ranked
7th
on the bullpen list,
6th
on the starting rotation list, and
8th
on the lineup list.
Yeah, the Redlegs may not be the best at any area in particular, but they sure are pretty good.