On Monday, Keith Law of ESPN.com published a list in which he ranked the farm systems of all 30 MLB teams. The Reds were tabbed as No. 12 on that list.
On Tuesday, Law continued his trend of ranking minor league talent by unveiling his list of the
top 100 prospects in baseball
. Low and behold, Cincinnati placed four players on that list.
Outfielder
Billy Hamilton
led the charge for the Reds by claiming the No. 30 spot, while RHP
Robert Stephenson
(No. 48), RHP
Daniel Corcino
(No. 72), and LHP
Tony Cingrani
(No. 98) all earned a spot in Law's rankings as well. The Reds placed three prospects on this same list
a year ago
(
Devin Mesoraco
, Corcino, Hamilton).
Here's a brief snippet of what Law had to say about each Reds prospect:
Hamilton: "The key to Hamilton's ability to maximize his value will be how he uses his speed to boost his on-base percentage, bunting for hits or beating out seemingly routine grounders to the left side. If he can be a .400 OBP guy with even average defense in center, his legs will make him a 4-5 WAR player until his speed starts to go."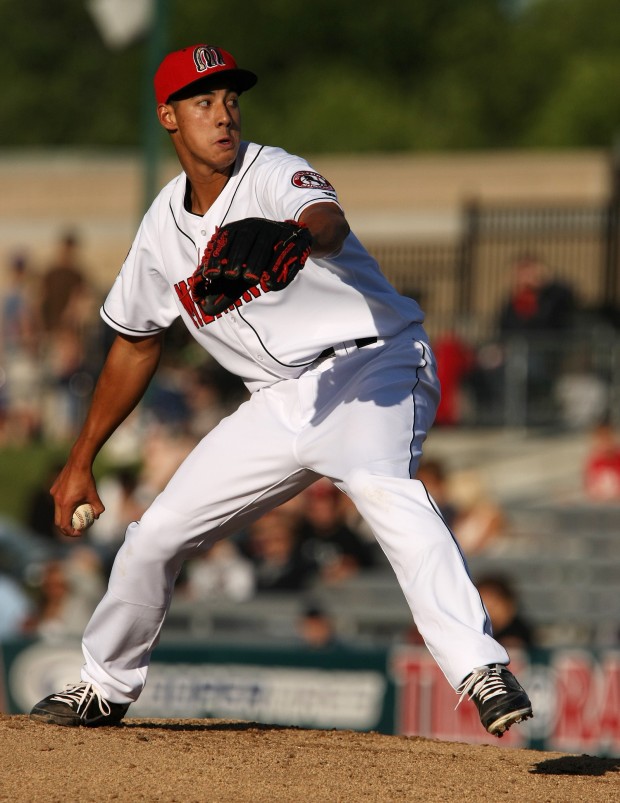 2011 first round pick Robert Stephenson
Stephenson: "He has some head violence in his delivery, but overall repeats everything well enough to throw strikes. He could end up a
Grant Balfour
-like arm out of the pen, if the secondary stuff doesn't come along, but he's shown so much progress that the Reds have likely found buried treasure here and a potential No. 1 or 2 starter."
Corcino: "He's just 22, with three average or better pitches and two full healthy seasons as a starter under his belt, more than enough to project him as a solid No. 3 given enough time, even if the Reds' home run-friendly park isn't the ideal place for him."
Cingrani: "He might be a No. 3 starter given another half-season or so in the minors, and should at least get a couple of years in that role before the Reds revisit the bullpen option."
And here are the guidelines used by Law in determining the rankings:
• The rankings are limited to players who still have rookie eligibility; that means they have yet to exceed 130 at-bats or 50 innings pitched in the majors and have not yet spent 45 days on the active roster of a major league club, excluding call-ups during the roster expansion period after Sept. 1.
• Only players who have signed professional contracts are eligible.
• I do not consider players with professional experience in Japan or Korea "prospects" for the purposes of this exercise, which means no Hyun-Jin Ryu (among others).
• When ranking players, I consider scouting reports on players -- usually my own, supplementing with conversations with other scouts and front-office executives as needed -- as well as performance, adjusted for age and context. I've made one adjustment in my ranking philosophy in recent years, favoring higher-upside prospects over lower-ceiling prospects who are closer to the majors. This better reflects how these players are valued now by front offices and scouting departments, and gives me a chance to deliver more information on prospects whose names or scouting reports might be new to you.
• I use the 20-80 grading scale in these comments to avoid saying "average" and "above average" thousands of times across the 100 player comments. On that scale, a grade of 50 equals major league average, 55 is above average, 60 is plus, 45 is fringy or below average, and so on.
Giancarlo Stanton
has 80 raw power.
David Ortiz
has 20 speed. An average fastball for a right-hander is 90-92 mph, with 1-2 mph off for a lefty.
• I've included last year's rank for players who appeared in the top 100 last offseason. An "ineligible" player (IE) was still an amateur at this time last January, whereas an "unranked" player (UR) was eligible but didn't make the cut. I've also tagged players who were on last year's sleepers list or list of 10 players who just missed the cut.