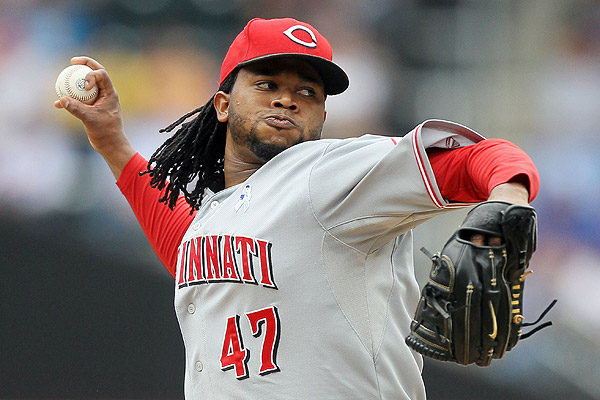 In 2004, the Reds signed an amateur free agent by the name of
Johnny Cueto
out of the Dominican Republic. In 2013, that same player enters the season as the undisputed ace of the pitching staff.
Cueto will turn 27-years-old on Friday, but he has already established quite the resume for himself in five big league seasons. The right-hander finished fourth in the
Cy Young
Award voting last year after tallying a 19-9 record and a 2.78 ERA in a career-high 33 games started. He also tallied career-highs in innings pitched (217), strikeouts (170), WAR (5.8), and K/BB (3.47).
Despite emerging as one of the National League's best starting pitchers in recent years, Cueto has yet to garner an invite to the All-Star Game. Cueto can probably thank an old grudge and former Cardinals skipper Tony La Russa for that, but I digress.
Cincinnati suffered quite a scare and quite a setback when Cueto was forced to exit Game 1 of the NLDS against the Giants after straining an oblique muscle after tossing only eight pitches. Unfortunately, the injury proved to be a season-ending one for him as the Reds went on to lose the NLDS in five games. Now, many will watch with an eager eye as to how Cueto performs post-injury.

Nonetheless, Cueto will be relied upon to anchor a formidable starting rotation once again in 2013. It is a rotation that many experts believe to be among the best starting five in the National League. Will Cueto be able to build off of the success he enjoyed in 2012? We shall see.
Here is a look at some 2013 projections for Cueto:
ZiPS
ERA: 3.32
WAR: 4.8
SO/9: 6.82
BB/9: 2.38
GS: 31
IP: 192.7
SO: 146
BABIP: .282
FanGraphs
ERA: 2.99
WAR: 4.5
SO/9: 7.06
BB/9: 2.20
W-L: 16-8
GS: 32
IP: 209.0
WHIP: 1.17
SO: 164
ESPN
ERA: 3.00
GS: 34
IP: 213.0
SO: 169
W: 18
WHIP: 1.18
SO/9: 7.14
*Only NL pitcher projected to win more than 18g is Nationals SP
Gio Gonzalez
(19)
It may be unrealistic to expect Cueto to perform at the same high level as he did a year ago, but we can certainly hope he does. He should have the benefit of having an offense that provides more run support during his starts, so that will be nice. Plus, he is entering what most people believe to be the prime of an athlete's career (late 20s to early 30s). He is still youthful enough to have all the physical tools at his disposal, but has plenty of valuable pitching experience under hist belt, as well.
Barring injury, I expect Cueto to finish in the top three in the CYA this year and maybe even win the coveted honor.
Here are the links to past player previews: