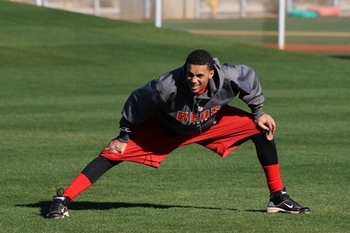 The roster count now stands at 37.
The Reds effectively inched closer to the 25-man limit by cutting top prospect
Billy Hamilton
and RHP
Drew Hayes
on Tuesday. They have both been reassigned to the minor league camp.
Hayes appeared in six games this preseason and tallied a 3.86 ERA in 4.2 innings.
Hamilton struggled in his stint with the big club this spring. He batted .174 (4-23) with two walks against nine strikeouts. Although his speed is second to none, Hamilton still has a long way to go before he can man the center field position in Cincinnati.
Here is a look at the updated roster:
Pitchers (18)
RHP Jose Arredondo
RHP Bronson Arroyo
RHP Homer Bailey
RHP Jonathan Broxton
LHP Aroldis Chapman
RHP Johnny Cueto
LHP Wilkin De La Rosa*
RHP Armando Galarraga*
RHP Clay Hensley*
RHP J.J. Hoover
RHP Mat Latos
RHP Mike Leake
RHP Sam LeCure
LHP Sean Marshall
RHP Nick Masset
RHP Logan Ondrusek
RHP Manny Parra
RHP Alfredo Simon
Catchers (4)
Ryan Hanigan
Devin Mesoraco
Corky Miller*
Miguel Olivo*
Infielders (8)
Emmanuel Burriss*
Zack Cozart
Jason Donald
Todd Frazier
Jack Hannahan
Cesar Izturis*
Brandon Phillips
Joey Votto
Outfielders (7)
Jay Bruce, Jay
Shin-Soo Choo
Chris Heisey
Ryan Ludwick
Xavier Paul
Denis Phipps*
Derrick Robinson*
*non-roster players
I'm no fortune teller, but I would assume De La Rosa, Galarraga, Hensley, Miller, Olivo, Phipps and Robinson are safe bets to be cut before camp breaks.
That eliminates seven more players and whittles the roster down to 30. The remaining players at risk of being cut, in my opinion, include Izturis, Burriss, Donald, Hoover, and Parra. Donald probably has the inside track of making the team because he is out of options.
Masset may begin the season on the disabled list, so he wouldn't count toward the 25-man total, thus giving the team another roster spot to play with.