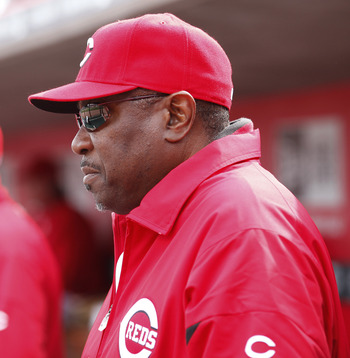 Tempers flared between a pair of competitive managers on Monday over the use of the designated hitter.
The Reds traveled to Scottsdale for a friendly spring training affair against the Diamondbacks at Salt River Fields. They were subsequently handed a 7-2 defeat to drop their record to a dismal 2-10 on the spring. However, the biggest story from this contest came before the first pitch was even thrown.
Reds skipper
Dusty Baker
wanted to use the DH so that he could insert
Shin-Soo Choo
to the batting lineup, who has missed a few days due to an ailing right quad muscle. But Diamondbacks manager
Kirk Gibson
wasn't having it. He wanted his starting pitcher to hit, instead. Arizona wanted right-hander Brandon McCarthy, who has spent his entire career in the AL where pitchers don't usually hit, to get some batting experience during a game.
At the exchange of lineup cards, there were reportedly intense words said between the two managers. Gibson offered to shake hands with Baker afterward, but Cincinnati's skipper refused.
"We didn't have a very pleasant encounter at home plate," Baker said. "That's how it goes. It's over."
As the home team, the D'Backs had the ultimate choice in the DH matter. Gibson says he was just going by the rules.
"He didn't want to play by the rules today and we made him do that. He voiced the way he felt to me and I voiced the way I felt back to him, not a big deal."
Gibson added, "They didn't want to, they had to and he didn't like it," he said. "We played a great National League game [Monday] and we move on.
"If he's pissed off about it I don't really give a s***."
Yeah, I don't expect these guys to be getting together for a cup of coffee anytime in the near future.
For what it's worth, Choo did eventually appear in the game as a pinch-hitter and flied out to left field. And McCarthy grounded out to the catcher in his lone at-bat.
H/T
Mark Sheldon
,
Adam Green