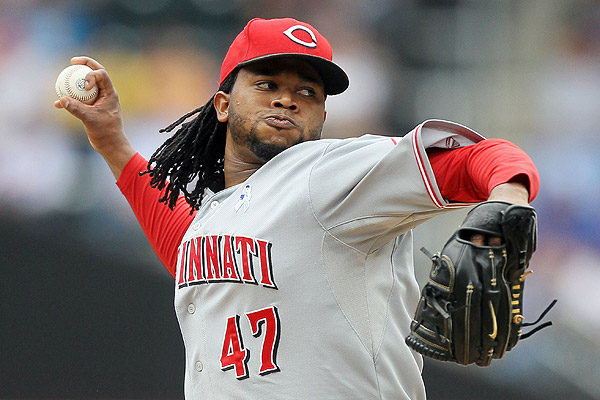 Dayn Perry of CBSSports.com has been running a series this week in which he ranks the rotations in each division in baseball. On Thursday, it was the National League Central's turn.
Even despite the rumors that
Aroldis Chapman
may be heading back to the bullpen, Perry still believes the Reds boast the best rotation in the Central. Here is what he had to say about his pick.
How rock solid was the Cincy rotation last season? Well, just six pitchers made starts, and it would have been five if not for a make-up doubleheader. That's a rare sign of health and consistency. Johnny Cueto, who finished fourth in the NL Cy Young balloting last season, is a certifiable ace, and Mat Latos (2.84 ERA in the second half) makes for an outstanding No. 2 man. While Bronson Arroyo is occasionally prone to gopher-itis, he's an established innings eater, which every rotation needs. The 26-year-old Homer Bailey, meanwhile, has benefitted from significantly improved command over the last two seasons. And while the (likely) decision to move Aroldis Chapman back to the bullpen drains some upside from the fifth spot, Mike Leake is more than capable by the standards of his slot.
Pretty fair assessment, I think.
Cueto and Latos provide one of the best one-two punches in the league, while Bailey has continued to blossom into an elite pitcher. Arroyo may show some regression this season due to the miles he's been logging on his arm, but I expect Leake to take a step forward in 2013 after being overlooked all winter long thank to Chapman's projected move into the rotation.
Via
CBS Sports