by: Dan Howard
Staff Writer
Before I start, I would like to say a big thank you to Brian Ooten for the gift, a framed print of W.S. Purdom's "A Season to Celebrate", featuring montages of important events during the Reds 2012 season. I have it prominently displayed in my office.
The worldwide cases of insomnia are nearing an end. I know many people have been waiting impatiently for the reveal of the Top Ten Reds Wins at Great American Ball Park. Believe me; I have struggled with this too. What game to put where on the list. In the past week, I have tweaked this top 10 list at least five times before finally deciding to go with it. I'm sure not all will agree, I know I've left out a lot of games, each with its own personality, which is why I stress this list is merely my humble opinion.
To see games 25-11, click here.
10.
May 27, 2012
– Reds 7 Colorado 5. All of the Rockies' runs came via solo homers, but the overall story was the Reds' offensive explosion during this seven game home stand. Cincinnati's four home runs, including
Todd Frazier
's "Look Ma no hands" blast, in this game brought the overall home stand total to 17. The nine homers set a record for most single game home runs at Great American Ball Park. The 29 total home runs hit (Reds 17, Atlanta 6, and Colorado 6) was a GABP record for home stands of seven games or fewer. The 6-1 home stand was one of the best in Reds history.
9.
July 15, 2011
– Reds 6 St. Louis 5. Coming off the All Star break, and needing to start strong for the second half, the Reds and Cards played a classic. This game had more plot twists than a Russian novel.
Chris Heisey
started the Reds scoring with solo home runs in the first and fifth innings. Heisey also robbed Red nemesis
Albert Pujols
of a home run in the top of the first inning. Cardinals battled back to take a 3 – 2 in the top of the seventh. Reds rally to take a 4 – 3 lead in their half of the seventh. Pujols' two run homer off
Aroldis Chapman
put St. Louis up 5 – 4 after 8. Chris Heisey struck out to open the Reds ninth;
Zack Cozart
lined a single to center, bringing
Joey Votto
to the plate. Votto, who collected two hits in the game, battled
Fernando Salas
until he eventually lined out sharply to right, to bring
Brandon Phillips
up to bat. Phillips sent Reds Nation into a frenzy by slamming a 1-0 pitch into the left field seats for a thrilling 6 – 5 victory.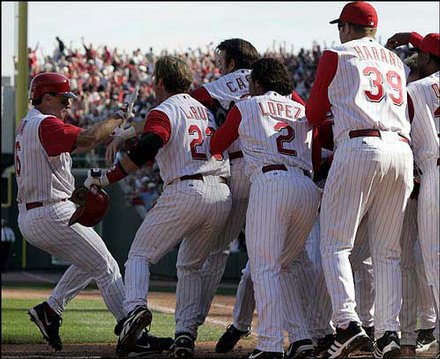 8.
April 4, 2005
– Reds 7 N.Y. Mets 6. Opening Day 2005 had its share of fireworks. Mets jumped to a 1-0 lead on Kaz Matsui home run in the top of the first.
Adam Dunn
's three run homer gave the Reds a 3-1 lead after one. Mets starter,
Pedro Martinez
, settled into a groove striking out 12 and allowed the Mets to take a 6-4 lead into the ninth inning. With Mets closer
Braden Looper
pitching,
Austin Kearns
started the Reds rally with a single, Dunn followed with his second home run to tie the game at six. New Red
Joe Randa
becomes only the fourth player since 1977 to hit a walk off home run on Opening Day with his new team.
7.
May 15, 2010
Reds 4 St. Louis 3. The 2010 Civil Rights Game.
Willie Mays
, Harry Belafonte, Billie Jean King, and 41,323 others witnessed this classic Reds-Cardinals battle. St. Louis defeated the Reds 4-3 in game one of this three game series to take a 1 ½ game lead in the Central division. Reds held a 4 – 2 lead into the top of the ninth. A shaky Reds closer
Francisco Cordero
allowed the Cardinals to close the gap to 4 – 3. Two out, with
Skip Schumaker
on first,
Joe Mather
lined a shot into the left field corner. Chris Heisey chased the ball down, turned and made a textbook throw to cut-off man
Orlando Cabrera
. As Schumaker rounded third and headed home in an attempt to tie the game, Cabrera wheeled around and made a perfect throw to
Ramon Hernandez
, who promptly tagged out Schumaker preserving the big Reds victory.
6.
May 13, 2012
– Reds 9 Washington 6. Trailing 6 – 3 into the Reds seventh and trying to avoid a sweep by the Nats, who one month earlier took three of four from the Reds at Washington, mild mannered Joey Votto transformed into Superman. Votto crushed solo home runs in the first and fourth innings. An eighth inning Reds rally, capped by
Jay Bruce
2 run double, scoring
Drew Stubbs
and Votto closed the deficit to one at 6 - 5. Reds continued to rally in the ninth off Nats closer
Henry Rodriguez
.
Ryan Hanigan
singled,
Devin Mesoraco
replaced Hanigan and moved to second after
Wilson Valdez
sacrifice.
Miguel Cairo
fouled out. With two out, Rodriguez had problems finding the strike zone, walking both Stubbs and Chris Heisey to bring Joey Votto to the plate with the bases loaded. Seeking his fourth hit of the game, Votto smashed a 2-2 pitch over the center field wall for his second career grand slam, and second career 3 homer game.
5.
March 31, 2011
– Reds 7 Milwaukee 6. Trailing 6 – 3 into the bottom of the ninth and facing Brewers closer
John Axford
, the Reds began an improbable comeback. Brandon Phillips led off with a single. Joey Votto walked.
Scott Rolen
reached on a fielder's choice to load the bases with no outs. Jay Bruce struck out swinging. Phillips scored on
Jonny Gomes
sacrifice fly to make the deficit 6 – 4. Down to the last out, the Reds hopes were pinned on Ramon Hernandez, who promptly crushed a 0-1 pitch into the right field bullpen for an amazing comeback win.
4.
June 30, 2006
– Reds 9 Cleveland 8. Reds
Elizardo Ramirez
may have been throwing batting practice in the first inning. The Indians battered Ramirez for 5 runs, all earned, on 6 hits. Cleveland continued to hammer Reds pitching to extend the lead to 7 – 0 into the Reds eighth. Reds offense had minor success in the previous seven innings collecting, but just couldn't get the key hit to drive in runs. The Reds popped the scoreless bubble in the eighth. Austin Kearns led off the inning with a solo homer. Following back to back singles by Brandon Phillips and
Javier Valentin
,
Juan Castro
cranked a 3 run homer to bring the Reds to within 3 at 7 – 4. Cleveland scored in the top of the ninth for an 8 – 4 lead.
Scott Hatteberg
opened the Reds ninth with a pop out; Austin Kearns singled, stole second, and went to third on Brandon Phillips base hit. Indians reliever
Bob Wickman
's wild pitch allowed Phillips to advance to second. Kearns scored on Javier Valentin's ground out which moved Phillips to third. Trailing 8 – 5 with two out,
Ryan Freel
, pinch hitting for
Kent Mercker
, walked, then swiped second.
Felipe Lopez
walked to load the bases bringing Adam Dunn to the dish. Dunn smoked a 1-0 pitch deep into the right field seats for walk off grand slam and a stunning 9 – 8 win.
3.
September 22, 2012
– Reds 6 L.A. Dodgers 0. Championship Saturday.
Mat Latos
pitched Reds into their second N.L. Central Championship in three seasons by holding the Dodgers scoreless on six hits en route to his 13th win of 2012. Latos struck out seven, walking none in eight innings pitched. Reds defense helped Aroldis Chapman close out the win with a stunning double play to end the game.
2.
July 19, 2012
– Reds 7 Arizona 6. For 5 ½ innings this game was lost. Trailing by 6 and held to just one hit, the Reds were primed to lose to the D-Backs for the second straight game. The crowd was booing; you could even hear the frustration in the voices of Reds radio announcers Thom Brennaman and
Jeff Brantley
. Murphy's Law, anything that can go wrong will go wrong, was affecting the Reds until Brandon Phillips rose up and led the Reds to an improbable comeback. Phillips sixth inning 3 run homer cut the deficit in half; his seventh inning 2 run double tied the game. Todd Frazier drove Phillips in with the eventual winning run with a base hit, also in the seventh. The bullpen secured the win, a victory that turned the season around. The Reds went on to win 10 straight for the first time since 1999. The Reds also set a modern day club record by winning 22 of 25, paving the way to the 2012 N.L. Central title.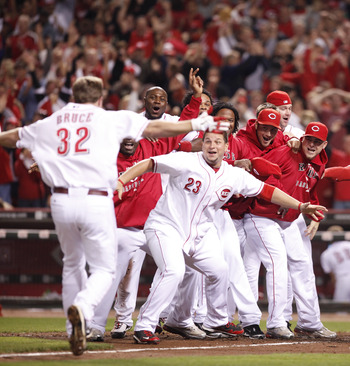 1.
September 28, 2010
– Reds 3 Houston 2. Say it with me….DUH! Jay Bruce's walk off to the 2010 NL Central title, perhaps the greatest win in Reds history since Game 4 of the 1990 World Series. Bottom of the ninth, game tied at two a piece, Astros
Tim Byrdak
pitching, Jay Bruce blasts the Reds to the postseason for the first time since 1995. I really don't see any game replacing this one unless the Reds win a pennant clincher, or world championship winner at Great American Ballpark. Let's hope 2013 is the year!
Note: The Reds haven't won a World Series clinching game at home since defeating the Detroit Tigers 2 – 1 in Crosley Field, Game 7 of the 1940 World Series.
This was fun! Let the debating begin!
Editor's note: A great deal of credit to Dan for keeping such thorough and diligent game recap records from years past. And especially for mustering the motivation to sift through them all to find the 25 best wins in GABP history!