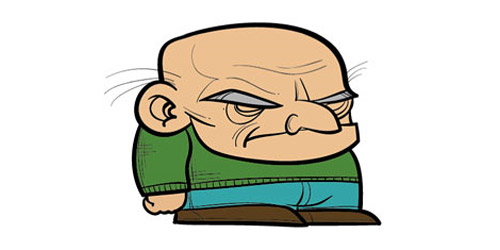 by: Dan Howard
Staff Writer
I know what your reaction will be - HUH? It's not what you think; I'm referring to a condition known as Old Phart Syndrome (f - words look more important if they start with ph.) It's a common condition not necessarily reserved for elderly people. O.P.S. can affect anyone, anywhere, any time. It strikes silently, without warning, regardless of profession. It seems baseball announcers are commonly stricken with the disease. Its symptoms include, but not limited to, the inability to deal with reality, or denying the fact thereof, constant ranting of seemingly insignificant topics, unusual displays of temper, and/or arrogantly bragging about your team, regardless of record. Another symptom of O.P.S. is incessant diarrhea of the mouth, along with constipation of the brain. People with serious cases of O.P.S. may suffer Cranial Rectum Inversion (C.R.I.).
Case in point, during the Reds ninth inning, nine run explosion at St. Louis this past Monday, Cardinals radio play by play announcer, to hide his identity from the figuratively billions of my blog readers, (and a fear of a libel lawsuit), we'll just call him "Mike". "Mike" came down with a mild case of Old Phart Syndrome. "Mike" boldly stated that Cincinnati never hit a ball hard in the inning, when reality clearly showed the opposite occurred. "Mike" never addressed the obvious; if St. Louis had relievers that could get someone out, the Reds wouldn't have scored so many runs in the inning. On Wednesday's Cardinals 10 – 0 beating of the Reds, "Mike" exuberantly proclaimed that St. Louis residents would be "dancing in the streets" at the end of the game. In my non – professional opinion, if a team's fans are dancing in the streets after winning the ninth game of a 162 game season, they've got a lot more serious problems than O.P.S. Then again, St. Louis needs to celebrate in April; they may not be celebrating this October, unless the Missouri Tigers football team somehow manages to beat the Florida Gators on October 19.
Flare ups of Old Phart Syndrome can occur anytime. During the Reds/Indians first spring training game, Cleveland radio announcer, "Tom" mentioned Cincinnati's collapse during last season's N.L.D.S. A classic O.P.S. moment, you see O.P.S. may also affect one's short term memory, long term memory, or both. "Tom" failed to inject that his Indians were ahead 3 games to 1 in the 2007 A.L.D.S. against Boston, only to see the Red Sox storm back, winning the final three games by a combined score of 30 to 5. Do I need to mention Game 7 of the 1997 World Series, the Indians held a 2 – 0 lead going into the last of the seventh, well, you know the rest of the story. For what it's worth, Cincinnati has won three World Championships since Cleveland's last title, in 1948.
If managed properly, Old Phart Syndrome can be controlled; current Reds broadcaster "Martin" hasn't had an episode of O.P.S. for a couple of years now. Scientifically speaking, winning baseball has been proven to reduce symptoms of O.P.S.
Team owners can feel the effects of Old Phart Syndrome. Former Reds owner "Marge" had many bouts of O.P.S., especially when dealing with Lou Piniella, Tony Perez, injured players, the media, etc., etc. Current Toronto ownership showed what O.P.S. can do if not controlled properly. Toronto increased their payroll by 40 million dollars this past offseason, at the time of this writing, the Blue Jays are currently in last place in the A.L. East. Is it possible that a knuckleball does not work in a controlled climate? A 0 – 2 record, with an 8.44 E.R.A. sure makes that question plausible.
There are millions of people in all walks of life who suffer from Old Phart Syndrome, regardless of age. There are consequences to severe cases of O.P.S, some take years to recover from. One Thanksgiving weekend, a few years ago, the wife of a well – known golfer found out her husband was stricken with Cranial Rectum Inversion, brought on by O.P.S. and took one of his golf clubs "up the side of his head", causing said golfer to crash his Cadillac into a tree. He hasn't fully recovered from his O.P.S. induced C.R.I. episode; some experts believe that if he performs well in the big golf tournament this weekend, his recovery will be complete.
It's a rarity, but some people actually are born with Old Phart Syndrome. A former Indiana and Texas Tech basketball coach is a prime example of the effects of years of O.P.S can do. His chair throwing, whip wielding, and telephone hammering antics, along with constant swearing, is due to living with uncontrolled O.P.S.
My mother said my dad became stricken with Old Phart Syndrome shortly after my birth in October 1963. Children are a common cause of O.P.S., I know firsthand, I have five of them. I'm dealing with the symptoms by writing this blog. Remember at the beginning of this article I said O.P.S. causes people to needlessly rant about subjects, I just wrote a page and a half on just that! Have a great week! GO REDS!!!!!