In honor of the draft taking place this week, I've compiled who I feel to be the best first round draft picks ever made by the Reds in franchise history. Here they are: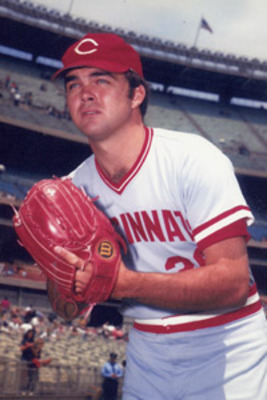 RHP
Gary Nolan
(1966)
- With the 13th pick in the '66 Draft, the Redlegs pegged Nolan from Oroville High School in Oroville, CA. He played a crucial role in the success of the Big Red Machine in the 1970s.
Career stats: 10 yrs, 110-70, 3.08 ERA, 1.145 WHIP, 45 CG
LHP
Don Gullett
(1969)
- Cincy plucked the southpaw out of nearby McKell High School in South Shore, KY with the 14th overall choice. Like Nolan, Gullett too was a pivotal piece in the Big Red Machine in his stay in the Queen City from 1970-76 and would return to serve as the pitching coach years later.
Career stats: 9 yrs, 109-50, 3.11 ERA, 1.227 WHIP, 44 CG
- The Reds pegged Larkin with the 4th overall pick out of the University of Michigan, and the rest as they say is history. Larkin, born and raised in Cincinnati, was a 12X All-Star, 8X Silver Slugger, 3X Gold Glover and the 1995 NL MVP. He's to be inducted into the National Baseball Hall of Fame in mid-July. In my opinion, he's the unanimious choice for the best first round pick in club history.
Career stats: 19 yrs, 2180 GP, .295 BA, .371 OBP, 198 HR, 960 RBI, 379 SB
OF
Jay Bruce
(2005)
- A stout left-hander out of Beaumont, TX fell to the Reds at 12th overall in '05 -- that kid was Jay Bruce. The All-Star slugger is still writing his legacy, but it's a safe to include him as one of the better first round picks the club has ever made. At 26-years-old, the slugger is looking to earn his third career trip to the All-Star game this season.
Honorable Mentions: 3B Bernie Carbo (1965), C Dan Wilson (1990), OF Austin Kearns (1998), RHP Homer Bailey (2004), 3B Todd Frazier (2007), RHP Mike Leake (2009)
So, as you can see, the Reds haven't exactly produced a slew of great players after drafting them in the first round. No player is ever a sure bet to pan out in the major leagues. In fact, it seems as though the Reds have fared much better with their second round selections.
Joey Votto
,
Johnny Bench
,
Chris Sabo
,
Scott Sullivan
, and
Adam Dunn
were each tabbed in the second round by Cincinnati.
For the record, the Reds snagged RHP
Nick Travieso
out of Archbishop High School (FL) with their first round draft choice in the 2012 Amateur Draft.