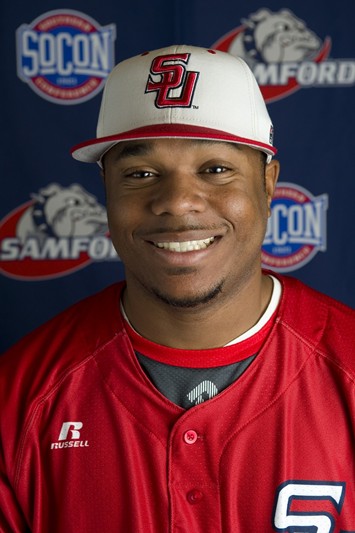 On Thursday, the Reds owned the 27th overall pick in the 2013 Amateur Draft and decided to use their first round selection on Samford University outfielder
Phillip Ervin
.
Ervin, 20, batted .337/.459/.597 with 11 home runs and 21 stolen bases in 2013 en route to being named SoCon Player of the Year. He also garnered preseason All-American honors. Baseball America ranked him as the third-best center fielder in the draft, calling him "one of the surest bets among college outfielders in the draft class."
The Leroy, Ala. native has drawn comparisons to Washington Nationals center fielder
Denard Span
and Pittsburgh Pirates center fielder
Andrew McCutchen
for his unique blend of speed and power. Scouts project Ervin as a potential "20-20" player (20 home runs, 20 stolen bases).
The right-hander decided to leave Samford early for the draft after his junior season.
"If you talk to pro scouts, they'll tell you his bat speed is off the charts," Samford head coach Casey Dunn recently told the Birmingham Herald. "The bat speed he is able to create is better than most, and that's the thing that's going to jump out at you. He has an above-average throwing arm in the outfield. He has a chance to hit with power but has the speed to play center field, which not a lot of people do. That's pushed him from a tools standpoint very high. The fact is, he's a very good hitter and he was able to show that for three years here."
Ervin was a three-sport athlete at Leroy High School where he excelled in football and basketball, in addition to baseball, of course. Ervin helped lead his high school to state championships on both the gridiron and the diamond.
Ervin will be a nice addition to the Cincinnati organization for sure.
Here is a look back at the team's first round draft picks since 2003:
2012 - RHP
Nick Travieso
(14)
2011 - RHP
Robert Stephenson
(27)
2010 - C
Yasmani Grandal
(12)
2009 - RHP
Mike Leake
(8)
2009 - RHP
Brad Boxberger
(43S)
2008 - 1B
Yonder Alonso
(7)
2007 - C
Devin Mesoraco
(15)
2007 - 3B
Todd Frazier
(34S)
2007 - RHP
Kyle Lotzkar
(53S)
2006 - OF
Drew Stubbs
(8)
2005 - OF
Jay Bruce
(12)
2004 - RHP
Homer Bailey
(7)
2003 - RHP
Ryan Wagner
(14)
According to
Trent Rosecrans
of the
Cincinnati Enquirer
, the Reds have enjoyed tremendous success with their first round draft picks from 2003-2010, as each one has already reached the majors at one point in time. The Reds are the only team in baseball who can accurately make that claim.
Travieso and Stephenson are currently pitching in Single-A as members of the Dayton Dragons.
Grandal, Boxberger, and Alonso are currently playing for the San Diego Padres and were included in the five-player trade that brought
Mat Latos
to the Queen City in December 2011.
Lotzkar is currently pitching for Single-A Bakersfield after being demoted from Double-A Pensacola.
Stubbs is currently playing as a member of the Cleveland Indians after being dealt in the three-player deal that landed
Shin-Soo Choo
.
Leake, Mesoraco, Frazier, Bruce, and Bailey are currently playing for the Reds, obviously.
Wagner has been out of Major League Baseball since 2009.