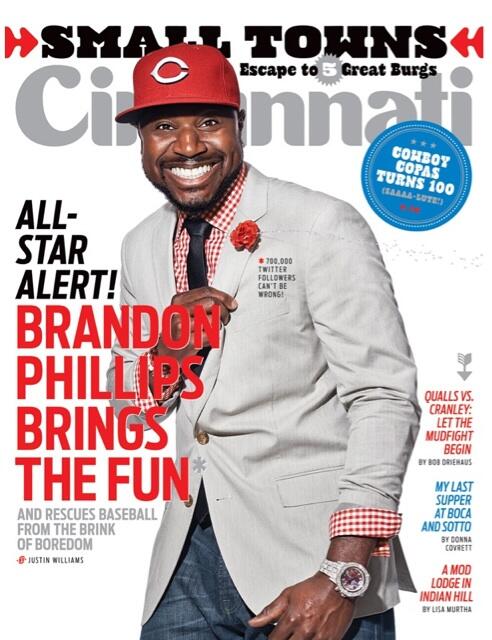 Reds Gold Glove second basemen
Brandon Phillips
says he's still "hurt" and "scarred" over the way the club handled his contract extension in the beginning of last season.
Phillips made his feelings known in an in-depth interview with Cincinnati Magazine for their August cover story dubbing the fan-friendly veteran as "The Most Entertaining Player in Baseball."
The 32-year-old said he was going to "speak how I feel" in the interview and he certainly lived up to his promise.
Phillips inked a new six-year, $72.5 million deal in April 2012 that will likely carry him through the rest of his playing days and into retirement. The deal involved a lot of back-and-forth between the club and Phillips as the latter was once quoted in saying that he just "wanted to get paid what he was worth."
While the signing of Phillips was definitely celebrated around Cincinnati, the city was still celebrating the signing of another Red,
Joey Votto
, who the team had penned to a whopping 10-year, $225 million extension just one week before.
Here is what Phillips had to say on the matter:
"I just feel like they didn't have to sign Joey (Votto) to that contract (10-year, $225-million extension). He still had two more years on his. And for (the front office) to go out there and sign him before they sign me, and they knew I was going to be a free agent?" Phillips shakes his head. "I understand Joey's a good player. He's one of the best players in this game. But I feel like I am too. I told them that this is where I wanted to be. I begged them. I told everybody I want to finish my career here. And then they give someone a contract who didn't ask for nothing?"
"To this day, I'm still hurt. Well, I don't wanna say hurt. I'll say scarred. I'm still scarred. It just sucks that it happened," he says. "For (Castellini) to sign somebody for $200 million, there must be a new vegetable or fruit coming out that we don't know about. For him to do something like that and tell me they didn't have any more money, that's a lie. But what can I do? I just feel like it was a slap in my face … But how can someone slap you in the face with all that money. It's a nice slap in the face."
Phillips' reference to a new fruit or vegetable comes due to the fact that Reds owner and CEO Bob Castellini has made his fortune as a produce wholesaler. Castellini is the chairman of the Cincinnati-based Castellini Co.
The fact that Phillips has publicly expressed his discontent with his previous contract ordeal shouldn't come as too much of a surprise. Phillips has been one of the most outspoken Reds players since arriving in the Queen City prior to the 2006 campaign.
The Georgia native is also one of the most beloved Cincinnati players in recent memory, though. He routinely engages with fans on Twitter, at the stadium, and out in the city, and has expressed on multiple occasions that he wants to finish his career as a Red.
"Number one, the fans love me here. I love it here. It's a blessing. It shows that (the team) invested a lot of money in me to go out there and do my job, and to keep representing the Reds in a positive way. I feel like that's the only reason I got that deal—if they didn't feel I was important to the city, then I wouldn't still be here."
You could read the interview in its entirety by
clicking here
.
Update
: C. Trent Rosecrans spoke with Votto before Friday's game regarding the comments made by Phillips and gathered some insightful comments of his own.
Here is what
Votto had to say
:

"I haven't read the article and I'd heard snippets of it, but from what I gathered, Brandon's reaction was totally human. It's a feeling I've felt before, it's a feeling most people have felt before.

"Brandon's a teammate I've played with six, seven years now and I love playing with him. I really have an immense amount of respect for him. Those comments have nothing to do with me. It doesn't change a single thing, it makes me like him more, to be honest with you. Not many players are very honest, usually they give catch phrases, similar to what I'm doing right now. He's a refreshing guy because he is honest and he does tell people how he feels. You can tell how he feels in that given moment and that's a great thing. It's great playing with someone like that. Variety is the spice of life and I love playing with Brandon...
The smiles and the high-fives and everything we share on the field are genuine. That's how we feel about each other. That's how it's going to be going forward. We play together for this city, we're tied together because of our contracts, because of the uniform we wear and because of the championship we're trying to seek out for Cincinnati. I know Brandon feels that way and I feel that way also. That's really all that matters."