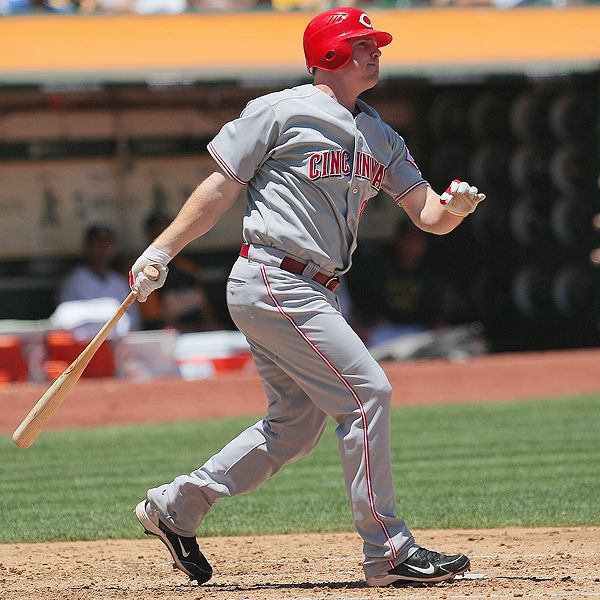 On Saturday, Major League Baseball unveiled the rosters for the 2013 All-Star Game.
Three Reds players were selected to represent the National League squad, however, right fielder
Jay Bruce
was not one of them. Naturally, the Texas native said he was "disappointed" when learning he didn't make the cut. But he appears to be handling the snub with class, though.
"There's a little disappointment there, but I'm not the first and I definitely won't be the last guy left off an All-Star team. It happens every year to someone," Bruce said. "It would do me no good to gripe and moan and complain. I've got a job to do and it's one of those things. It's baseball, it's life. You definitely can't discount the years that the guys named to the team are having and I'm definitely not going to let it become a 'woe is me' thing, I'm definitely happy for our guys that made it. I'm a grown man, a professional, I have a lot of years left to make more All-Star teams."
Bruce was vying to earn his third consecutive trip to the Midsummer Classic this season. And he still very well could by serving as a replacement for one of the current All-Star outfielders should one of them get injured before now and July 16.
Bruce was also not among the five players selected for MLB's Final Vote, which allows fans to vote for who they want to see receive the last spot on each league's roster. Los Angeles Dodgers rookie sensation
Yasiel Puig
is the favorite to win the fan vote for the National League. Bruce said he believes there are other candidates who deserve recognition ahead of the Cuban native, though.
"That's not up to me, I believe that he's been great so far, I think there are guys more deserving. We'll see what happens. Now it's up to the fans to vote him in or not," Bruce said. "There are guys I think are more deserving. There's no question he's had an amazing month in the major leagues, and that's ultimately going to be up to the fans to decide."
Entering Sunday, Bruce was hitting .274 with 18 home runs, 59 RBI, and a league-leading 26 doubles. So, he definitely has a good case for being named an All-Star.
In a classy gesture, Giants manager
Bruce Bochy
, the manager of the National League All-Star team, texted Reds manager
Dusty Baker
on Saturday night, telling his counterpart to pass along the message to Bruce,
Shin-Soo Choo
,
Mat Latos
,
Mike Leake
and
Homer Bailey
that it was tough leaving them off the All-Star roster. But I'm sure it doesn't completely subside the feeling of not being selected.
Via
Cincinnati Enquirer