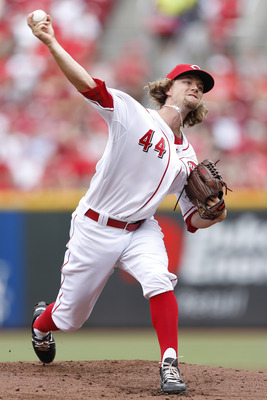 Let's be honest, folks. There is a lot of luck involved with baseball.
ESPN Insider Scott Spratt apparently agrees with this previous statement, as well. And that's why he went through the effort of compiling a list with who he believed to be the "luckiest" pitchers in baseball this season.
Spratt's primary argument for these pitchers' luckiness involves the idea of runs saved by their defense. Apparently, some pitchers seem to get better defensive support than others. These pitchers include
Mike Leake
and
Bronson Arroyo
from the Reds.
Via
ESPN
:
Mike Leake and Bronson Arroyo, RHPs | Cincinnati Reds
Plus/minus runs saved by all fielders: 17 (Leake), 14 (Arroyo)
Reds pitchers have been mainstays on this list in recent seasons. From 2011 to 2012, Johnny Cueto benefited from 25 plus/minus runs saved, the third-highest total in baseball. This year, Leake and Arroyo are both in the top five at the halfway point.
Whether by coincidence or due to a concerted effort by their coaching staff, Reds pitchers have been among the best at helping themselves. Since 2011, Leake, Cueto and Arroyo are three of the 11 pitchers in baseball with 10 or more DRS.
The fact that Leake and Arroyo are so good at helping their own cause on defense isn't quite so "lucky," and is a big reason they could set career bests in ERA.
So, there you have it.
Part of the reason Arroyo and Leake have been successful thus far in 2013 has been because of the slick fielding they have been getting behind them. This probably speaks volume about the way that they pitch though, too. Both right-handers don't throw the baseball exceptionally hard and rely on hitters to make weak contact in order to record outs. This results in fewer hard hit balls and more softly batted balls in which fielders have a better chance to get to.
It's not rocket science. But it does require a bit of luck from time to time.