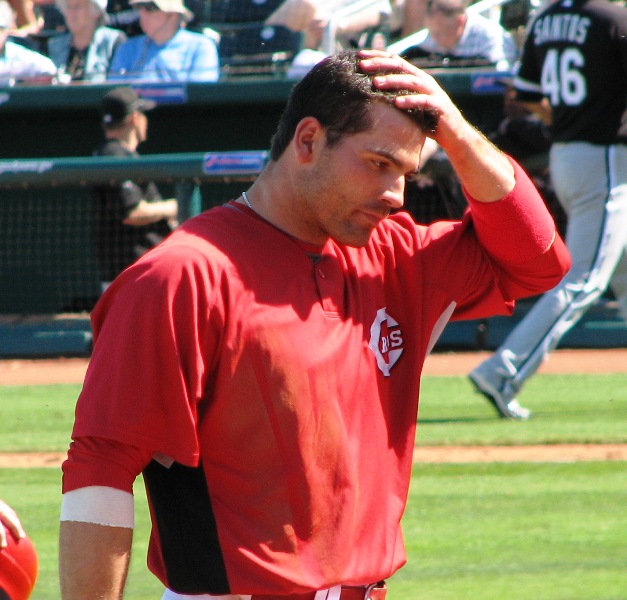 I believe it's fair to say that Reds broadcaster Thom Brennaman has annoyed listeners and viewers from time to time. But one national writer was so annoyed by Brennaman during Saturday's telecast against the Pirates that he decided to write an entire piece dedicated to it.
CBS Sports writer
Matt Snyder
published an article on Monday which basically rips Brennaman, and anyone else, who insists on rambling about the importance of hitting with runners in scoring position with two outs. Apparently, Snyder became quite steamed when Brennaman kept stressing how poorly
Joey Votto
has hit this season in such situations. In fact, Snyder went as far as saying Brennaman was "obsessed" with it.
Here is a snippet from Synder's piece:
While being tortured by play-by-play announcer Thom Brennaman during Saturday afternoon's Fox game in my region -- Reds hosting Pirates -- I stumbled upon my absolute limit when it comes to one particular "stat."
I cannot possibly take one more solitary second of talk about batting average with runners in scoring position (henceforth RISP). Even worse is limiting the talk to RISP with two outs.
Brennaman couldn't help but hammer home how bad the Reds have been with RISP and two out. He absolutely couldn't help but stress how bad Joey Votto has been this season with RISP and two out. He was basically obsessed with it
.
Snyder went on to defend his point by admitting that Votto has indeed not been good with RISP with two outs this season (.125). However, he shot down any insinuation made by people that Votto isn't clutch because of it, citing the fact that Votto's had only 24 at-bats in such situations this season, and is batting .289/.467/.534 with RISP and two outs in his career, which is pretty damn good no matter how you slice it up.
You may remember that Synder was also the one who recently tabbed the Reds to win the World Series. And one of the reasons he allegedly decided to do so was because he expects their overall hitting with RISP to improve.
In fact, one of the reasons I predicted the Reds to win the World Series was because they were 11 games over .500 at the All-Star break despite hitting below .200 with RISP and two out. That points to little more than bad fortune and over the course of 162 games it has a tendency to even out. We're talking about a team that ranks fourth in the NL in runs scored despite leaving so many men on base.
Snyder delivers one parting blow in the post by telling people to quit being obsessed with the particular stat and even took a good shot at the entire Brennaman family by calling them "insufferable."
Yeah, I doubt these two will be grabbing lunch anytime together soon.
Via
Eye on Baseball