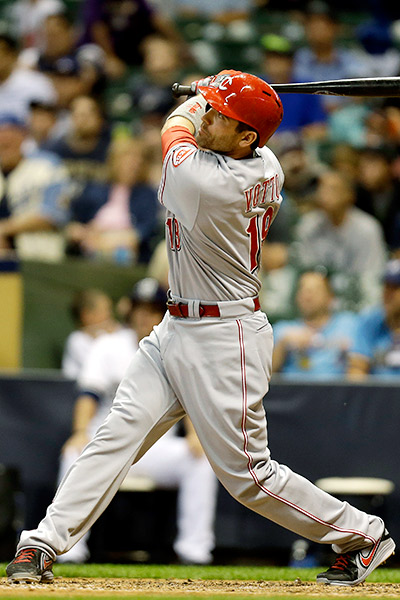 Numbers don't lie. It's a phrase and philosophy most baseball fans have heard all of their lifetime. But there is one player in particular who has been making baseball pundits reconsider their definition of success on the diamond. He wears a Reds uniform, plays first base, and is arguably one of the best hitters in the modern game. His name is
Joey Votto
.
At first glance, Votto's power numbers don't exactly jump out at you. Entering Saturday, the Canadian native had 18 home runs, 25 doubles, and 57 RBI to his credit. His RBI total is less than half of the amount that reigning American League MVP and Triple Crown winner Detroit Tigers slugger
Miguel Cabrera
has accumulated (115).
However, Votto's numbers are extremely deceiving, and the true baseball analysts know just how good Votto is at the plate. For example, the 29-year-old is on pace to lead the league in on-base percentage for the fourth season in a row. This is partly due to his willingness to take a walk. He currently leads the league with 92 of them in 2013. Although some may argue otherwise, Votto's keen eye at the plate, coupled with his .318 batting average makes him perhaps the toughest out in all of baseball. And in the grand scheme of things, isn't the ability for an offense to avoid making outs what it's all about? The fewer outs you make, the more likely you are to score, right?
Well,
Bill Baer of ESPN.com
would probably agree with that sentiment. Baer recently penned a feature piece on Cincinnati's All-Star slugger and explains to readers that Votto is an MVP candidate despite his lack of RBI. Baer solidifies his argument by giving three factors influencing the disparity between Votto's RBI production and
Brandon Phillips
'.
Here they are:
1) Zack Cozart: For most of the season, Cozart was hitting second in front of Votto. Cozart has a .272 on-base percentage, meaning he rarely got on base in front of Votto.
2) Votto's walk rate: It's true that Votto walks a lot, and that's a fantastic thing. Walks aren't as sexy as home runs or doubles, but they always help. Votto has walked in nearly 17 percent of his plate appearances this season (he has the highest walk rate in the majors). However, because a walk does not produce a ball put in play, the opportunity for other runners to advance other than by force is lost. So Votto isn't taking advantage of leadoff man Shin-Soo Choo's .411 on-base percentage the way ...
3) Phillips is taking advantage of Choo's OBP and Votto's OBP. Phillips has batted with 382 runners on base -- the second most in the majors. Votto has batted with 325 runners on base (13th). However, Votto's walks and Phillips' aggressiveness means Phillips puts more balls in play -- 79 percent of his plate appearances to Votto's 64 percent. Putting the ball in play is good in theory, but remember that an elite hitter gets a hit in only three out of every 10 at-bats. While putting the ball in play is conducive toward padding that RBI total, Phillips' frequency of making outs has hurt the Reds' ability to score runs. Going by wOBA, the gap between Votto (.406) and Phillips (.307) represents about 45 runs created over 600 plate appearances.
Baer makes some valid points, in my opinion. Phillips has definitely been the beneficiary of hitting behind the league's top two on-base percentage guys. This has led to a plethora of RBI opportunities for the second basemen, and to his credit, he has cashed in significantly.
But to dismiss the idea of Votto winning the MVP because his traditional stats aren't as staggering as say someone like Cabrera's is foolish. There is no doubt in my mind that Votto is one of the top three hitters in baseball and maybe even the toughest hitter to get out on a regular basis. He approaches every at-bat with an intensity and focus that all of his peers should strive for. Simply put, he doesn't give away at-bats. Sure, he may look bad at the plate every now and then, but that's the nature of the beast as a major league hitter.
Now, I'm not saying he should be the front-runner to win the National League MVP award, Pittsburgh's
Andrew McCutchen
, St. Louis'
Yadier Molina
, and Arizona's
Paul Goldschmidt
are all very deserving in their own right, but Votto is definitely in the mix. It will ultimately be up to the Baseball Writers' Association of America to decide how valuable Votto has been to his team.