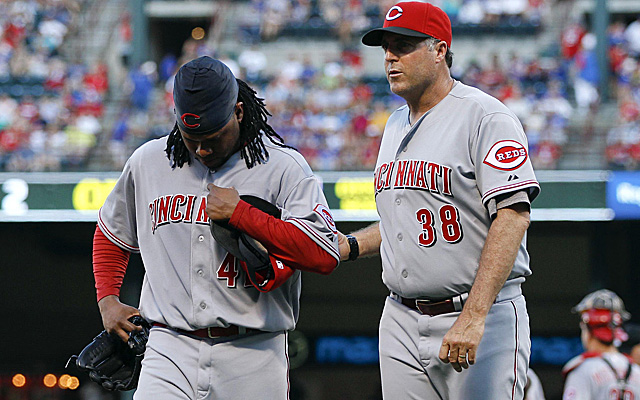 The Reds have been without the pitching services of ace Johnny Cueto since he left a start against the Texas Rangers on June 28. And it doesn't look like the team will have his services anytime in the near future, either.
An MRI conducted over the weekend revealed that the right-hander still needs time to heal from the right lateral muscle strain that has plagued him on and off again in 2013.
"They showed basically about 75 percent of the strain is healed," athletic trainer Paul Lessard told Cincinnati.com. "He's going to continue to do the strengthening stuff for another week and then we'll re-scan him again and see if that 25 percent has closed up."
Cueto has landed on the disabled list three times this season after succumbing to injury in the first game of last year's playoff series against the eventual World Series Champion Giants, as well. Naturally, this series of ailments has some around the organization very concerned.
The 27-year-old was 4-2 with a 3.33 ERA and 1.07 WHIP at the time of his most recent trip to the disabled list. In 2012, Cueto managed to stay healthy for the duration of the regular season, and wound up finishing fourth in National League
Cy Young
Award voting.
Fortunately, the Reds haven't skipped a beat in his spot in the rotation thanks to the emergence of rookie left-hander
Tony Cingrani
. Cingrani has been brilliant thus far filling in for the injured Cueto as evidenced by his 6-2 record and 2.78 ERA.
However, the Reds would still love to have Cueto back in the fold sometime before the end of September, but that is looking more and more unlikely at this point. Cueto is running out of time to rehab as the minor league season is just a mere two weeks from closing. So, it will be extremely tough for Cueto to build up his pitch count, and test out that lingering lat injury, without the aid of being able to pitch in rehab assignments.