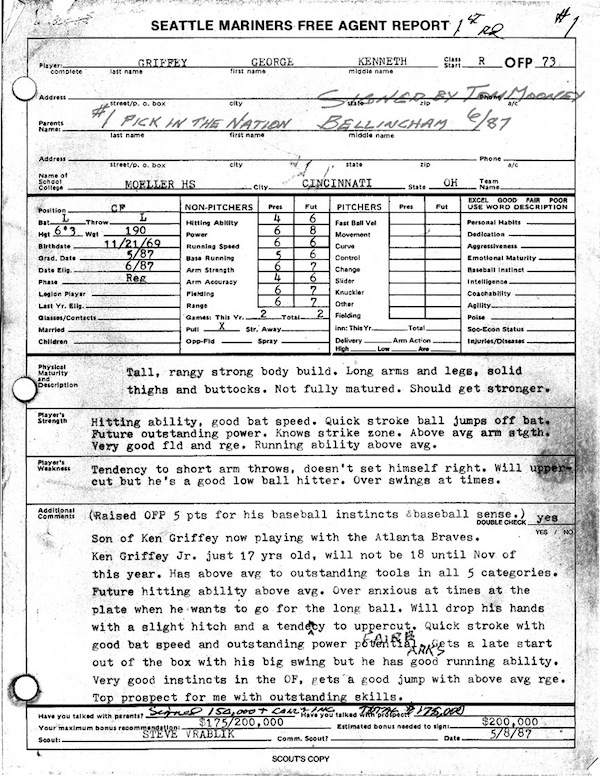 Former Red and Cincinnati native
Ken Griffey Jr
. was bestowed the honor of being inducted into the Seattle Mariners Hall of Fame this weekend. And it's only a matter of time before Junior gains induction into both the Reds Hall of Fame and National Baseball Hall of Fame in Cooperstown, as well.
Simply stated, "The Kid" was one of the smoothest and greatest players to ever grace the sport. The son of former Big Red Machine cog, Ken Griffey Sr., Junior took the game by storm from the very start of his professional career, electrifying fans with amazing catches and wowing fans with one of the sweetest swings of all-time.
All in all, it wasn't exactly rocket science to predict how great Junior was going to be. Nonetheless, scouts created scouting reports anyway. Here is a scouting report from 1987 dug up by Busted Coverage when Junior was just 17-year-old.
As you can see, the report features prophetic comments such as "top prospect with outstanding skills" and "outstanding tools in all 5 categories," among others.
Griffey finished his career with 10 Gold Glove Awards, 13 All-Star nods, and 630 home runs. Approximately 210 home runs and three of those All-Star appearances came while Junior was a member of the Reds from 2000-08. Due to various injuries that kept him off the field, we are left to wonder how much better he could have been, and that is a scary thought, because he was one of the best when healthy and in his prime.
Via
Bleacher Report