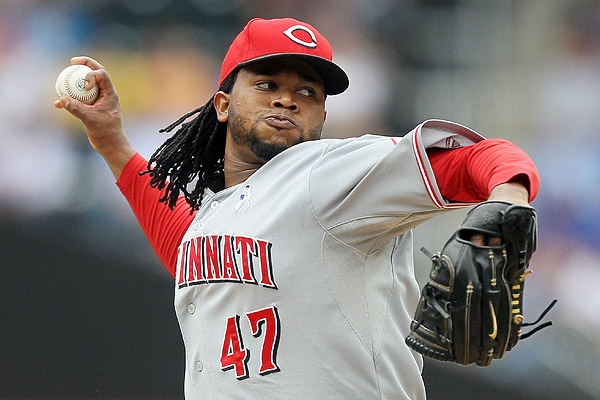 Injured right-hander
Johnny Cueto
has changed his unorthodox throwing motion to a more traditional style.
According to the
Cincinnati Enquirer
, Cueto unveiled his new motion during an "impressive" bullpen session at Great American Ball Park before Tuesday's game against the Cardinals. The Dominican native threw 35 pitches off the mound and all indications are that the session went extremely well.
As for the new motion, Reds head trainer Paul Lessard called it a "modified twist" where Cueto only slightly closes his front side. Cueto's previous
wind-up
, which begins by spinning back towards second base so that his back faces the batter, and has been compared to former MLB pitcher
Luis Tiant
, has apparently been scrapped.
Lessard said the old motion was not cause for Cueto's current injury.
"I think it's like a golf swing, you get the momentum open, when he flies open, the arm is dragging and the lag in the arm is what causes the pain and the strain," Lessard said. "When he's more closed, mechanically, he's more efficient and he doesn't have that lag in his arm."
Cueto hasn't pitched in a game since June 28 in Texas. This stint on the disabled list marks his third of the season and fourth since exiting Game One of the 2012 NLDS in San Francisco.
On Monday, pitching coach
Bryan Price
said he was hopeful that Cueto could join the team by the end of the season, though.
Here is a slow-motion clip of Cueto's old throwing motion for reference.