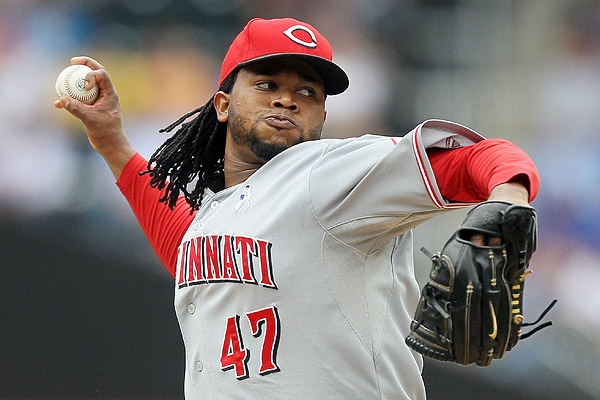 It seems as though the only step left in
Johnny Cueto
's rehabilitation process is to pitch in an actual game.
The Dominican native, who has been on the disabled list with a strained lateral muscle since late-June, threw yet another successful bullpen session on Saturday, and depending on how he feels on Sunday, a decision could be made that will allow Cueto to pitch in a game as soon as Monday.
As
C. Trent Rosecrans of the Cincinnati Enquirer
points out, the Reds don't currently have a starting pitcher listed for either Monday or Tuesday. So, it is extremely possible that Cueto could wind up making an appearance on one of those days.
"You have to get through all this stuff, everything's been a process of execution and then follow-up, and the follow-up is seeing how he feels when he gets done, the following day," Price said Saturday morning. "I think he's real close. Pretty close is about as far as we can go with him before activation. "
Remember, the Reds don't have the luxury of sending Cueto on a minor league rehab assignment, considering that all of their minor league affiliates have already played their last games of the year.
"We do the best we can, which in our case is graduating from long toss to flat grounds to bullpens to simulated games and he's gotten through all of it," Price said. "There's been no signs of recurring issues with his lat muscle, he's rebounding well, meaning he's throwing and the next day he's feeling good afterward. He's extremely strong through the rehab process. It would be almost like spring training, we're getting ready for the season and we've done everything in our power to ensure these guys are as healthy as possible. In this case Johnny's as healthy as possible and now it's a matter of re-initiating him into our mix."
The prospect of having Cueto back in the fold has to be extremely great news for the Reds. Cincinnati is coming down to the last two weeks of the regular season and trying desperately to keep pace with the Cardinals and Pirates in the division. A healthy Cueto would definitely helps their cause.