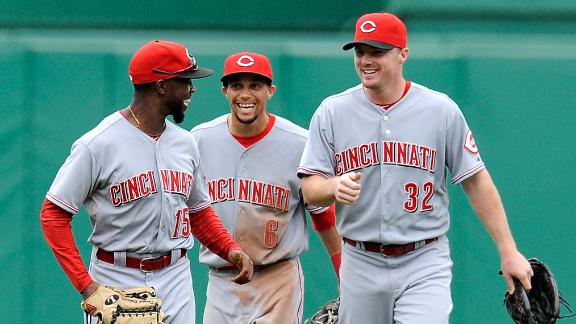 Fresh off a successful 6-3 road trip through Milwaukee, Houston, and Pittsburgh, the Reds held steady at No. 8 in the latest batch of Major League Baseball Power Rankings, released by ESPN on Monday.
Cincinnati stumbled out of the gate, though. They dropped two out of three at Miller Park before rebounding nicely with a sweep against the Astros. They carried the momentum from Houston into the Steel City this past weekend and proceeded to take two out of three from Clint Hurdle's squad.
The recent events have left the Reds tied with Pittsburgh for the top Wild Card spot and two games back of the St. Louis Cardinals for first place in the division.
Despite winning the series at PNC Park, ESPN ranked the Reds behind the Pirates in the power rankings, tabbing Pittsburgh No. 7 overall. Now, I know it's just a meaningless ranking, but it doesn't make a whole lot of sense to me. I guess the real test will come next weekend when the Pirates and Reds do battle once more in the last series of the regular season at Great American Ball Park.
The one club both teams are trying to flag down are the pesky Cardinals. Mike Matheny's crew ranked No. 6 in this week's edition of ESPN's rankings.
A trio of American League teams (Red Sox, Athletics, Tigers) and a pair of National League teams (Dodgers, Braves) occupied spots 1-5.
As for the rest of the National League Central, the Cubs held steady at No. 26, while the Brewers also held steady at No. 24.
All in all, there really wasn't much movement in this batch of rankings. The folks who compile the list are either burned out at this point of the year or they have just simply stopped caring.
Please see the Pirates ranking compared to the Reds as evidence.
Via
ESPN