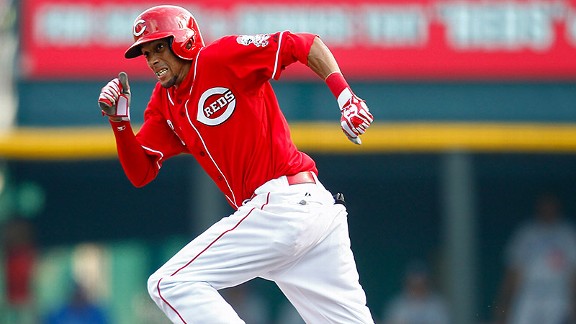 The Reds and
Billy Hamilton
may be sparking a revolution.
The 22-year-old's brief time in the big leagues has been nothing short of energizing, electric, amazing, and just generally fun to watch. He has yet to play a single inning defensively, nor has he yet to record his first major league at-bat, but his mere presence has definitely been felt.
Hamilton has appeared in four games since being promoted from Triple-A, each time as a pinch runner, and each time he has stolen a base. His first two came against one of the best defensive catchers in the game,
Yadier Molina
, who was so concerned about Hamilton's speed, that he rushed his throws when trying to gun the fleet-footed outfielder down. Molina was unsuccessful, obviously, much to the delight of the Great American Ball Park crowd.
Speaking of the crowd, the mere sight of Hamilton running out of the dugout to relieve a teammate on the bases has become an event equivalent to when
Aroldis Chapman
emerges from the bullpen. Both players have the ability to demand undivided attention while igniting the stadium into an absolute frenzy.
Believe it or not, there was a time not too long ago when select fans and experts alike questioned the kind of impact Hamilton could have for the Reds, so much so, in fact, that the club was reportedly questioning whether to call-up their top prospect when the rosters expanded earlier this month. In fairness, Hamilton didn't exactly have the kind of offensive season the club hoped he would in Louisville, boasting a slash line of .256/.308/.651 in 123 games, but he did steal 75 bases, and I guess the Reds decided his speed alone was worthy enough to give him the nod.
Their decision has proved to be a wise one, thus far. The Mississippi native has already emerged as a secret weapon for skipper
Dusty Baker
to turn to in the late innings of tightly contested games. And the rest of the league, as well as the rest of the country, have taken notice.
There is no doubt that Cincinnati will continue to use Hamilton in this "designated pinch runner" role. But given the success the Reds have enjoyed with Hamilton, albeit a small sample size, don't be surprised if fellow teams follow suit and try to develop their own sort of speed threat.
You don't have to look back very far or for very long to see examples of revolutionary ideas changing the landscape of Major League Baseball. Teams quickly began rethinking how they evaluated and analyzed players thanks to the
Moneyball
phenomena spearheaded in Oakland by
Billy Beane
. Oh, and the concept of relief pitchers, and specifically closers, hasn't been around that long, either.
Revolutions aren't just relegated to baseball, though. The "Wildcat" formation became extremely popular among college football teams a handful of years ago, and it even spilled over into the professional ranks, too. On the basketball side of things, legendary Syracuse coach Jim Boeheim is widely credited for developing the modern day 2-3 zone defense that many teams use today.

In short, change is no stranger to sports. So, it's not too hard to fathom a time in the near future when all teams boast a guy like Hamilton on their roster, whose primary job is to put pressure on opposing pitchers and defenses by posing a serious threat on the bases. Now, I realize teams may be reluctant to designate such a player on the 25-man roster for this cause, but I don't believe using a spot when the rosters expand in September is something teams will lose sleep over, especially if it produces results like Hamilton has.