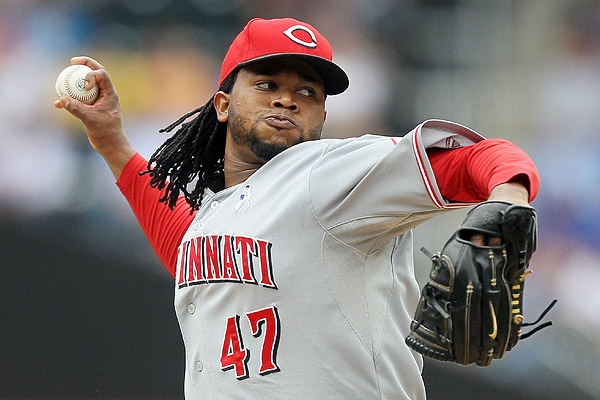 The Reds could be receiving a huge lift to their postseason push soon.
On Sunday, right-hander
Johnny Cueto
took another step forward in recovering from a strained lat muscle, throwing 30 pitches off the mound in a simulated game. He faced seven hitters over two innings and didn't allow one ball to leave the infield. It marked the first time Cueto had faced live hitters since landing on the disabled list June 29, and by all accounts, he looked really good.
"He was really sharp for the amount of time he's been out,"
Dusty Baker
said. "He had good command, good velocity. His mechanics are so sound that he won't be too far off."
Teammate
Xavier Paul
said Cueto's slider nearly broke his bat and rookie
Billy Hamilton
said he was impressed with the life on the ace's fastball.
Pitching coach
Bryan Price
seems to think Cueto is "very close" to returning, but the Reds will wait and see how Cueto feels Monday before deciding what to do next with him.
One option the Reds won't have at their disposal is sending Cueto on a minor league rehab assignment. Each of Cincinnati's minor league affiliates have already wrapped up their season. However, Price believes Cueto could return to action in the next 10 days or so regardless.
"We think he'll be more than ready to pitch in the big leagues by then," Price said. "There are a lot things we can do. We can more of an upscale simulated game. I think Johnny feels like he's really close. What it come down to is organizationally we've got to confer (trainer Paul Lessard) and Dr. (Tim) Kremchek and make a decision on what's the best next step."
Price also noted that Cueto threw his simulated game exclusively from the stretch, eliminating the exaggerated twist Cueto formerly used in his wind-up. On a similar note, earlier this week, the
Cincinnati Enquirer reported
that Cueto had modified his throwing motion to one that included less of a volatile twist.
Due to the success
Tony Cingrani
has had filling in for the injured Cueto, some believe serving in the bullpen as a reliever is the best course of action for the Dominican native. Price wouldn't rule out the possibility of him starting, though. But that is probably the least likely of the two scenarios at this point.