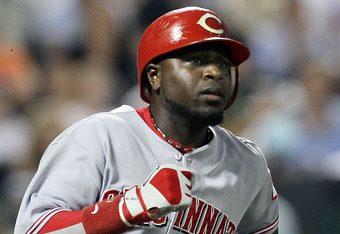 With the MLB postseason in full swing, there isn't much to report out of Reds camp. The managerial search seems to be moving in a snail-like pace, and most of the sports talk in Cincinnati has been revolving around the Bengals.
But there has been at least one interesting development this week. According to the
Cincinnati Enquirer
, the Reds are likely out of the fold in acquiring Cuban infielder Alexander Guerrero. The club was thought to be in the mix after Guerrero's multi-year deal worth $32 million with the Dodgers fell through in July.
So, what does this all mean, you ask? Well,
according to John Fay
, Cincinnati's mere interest in Guerrero could be a strong indication that the Reds may be looking to trade All-Star second basemen
Brandon Phillips
this offseason.
Although Guerrero's primary position is shortstop, most scouts project him to play second base at the major league level, and as Fay wisely points out, the Reds aren't going to pay $4.5 million a year for a backup.
On the other hand, Fay also admits that the Reds could have simply backed off Guerrero once their scouts determined he couldn't play shortstop, which means the Reds might have been looking to replace
Zack Cozart
, instead.
However, Phillips seems to be the more logical answer, as he may have rubbed some people within the organization the wrong way this season, after making some disparaging comments to
Cincinnati Magazine
about owner Bob Castellini, as well as berating beat reporter C. Trent Rosecrans on camera.
Given his increasing age, lower productivity, and money left on his contract (owed $50 million over next four years), the Reds may be seriously pursuing a cheaper option at second base, which means Phillips could be on the move this winter.
Fay lists the Dodgers and Yankees as two clubs who would have the ability to take on his contract.
For what it's worth, I don't doubt the fact the Reds are willing to listen to offers for their Gold Glove winner, but I think the odds of the club actually pulling the trigger on a deal is less likely than not.