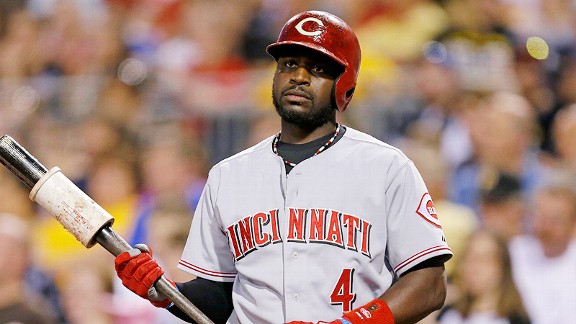 Will
Brandon Phillips
play second base for the Reds in 2014?
This is a question that has been posed by many around the baseball community lately. The Reds are reportedly adamant about unloading the burden of Phillips' remaining contract ($50 million) on someone else. And they are looking to do so via trade.
However, at least one baseball expert thinks teams who may be interested in acquiring Phillips should proceed with caution, as Dan Szymborski of ESPN Insider recently tabbed the All-Star as one of "
five players to avoid this winter
" in this post.
Here is a snippet of what Szymborski had to say about Phillips:

It's no secret at this point that the Reds are interested in moving Phillips in the offseason. While he has been a key part of Cincinnati's lineup in recent years and signed his current contract extension just a year and a half ago, there has been tension between Phillips and the Reds, partly stemming from contract negotiations that were heated at times.

Cincinnati believes that Phillips would fetch an impressive return on the market, and that's where the problem lies. On the surface, Phillips' résumé looks impressive. He just won his fourth Gold Glove and finished with 18 homers and his first career 100-RBI season. But as usual, the devil is in the details.

A .706 OPS was the lowest for Phillips in a full season in his career, more than a 100-point drop-off from his .810 OPS just two years ago. Phillips did hit very well with runners in scoring position (.338/.404/.469), but those kind of situational splits aren't something that players ever keep up on a long-term basis, so that can hardly factor into a decision to trade for Phillips.

Add in his age (33 by next year's All-Star Game) and the $50 million remaining on his contract, and you have a player who may well be worth the cash, but not worth a significant prospect haul. Even in a weak free-agent market for second basemen, it's better to either go after Omar Infante or try to fill another hole.
The proverbial hits just keep coming to Phillips and a lot of the criticism seems unjust. It really is amazing to see how fast things have changed in Cincinnati for the fan favorite. There will always be those who support him, but if players had such a thing as an approval rating, Phillips' may be at an all-time low at the moment, and it's very unfortunate.