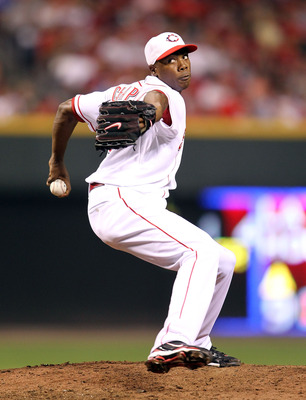 It goes without saying that pitching was probably the strength of the Reds last season. Both the bullpen and starting rotation were excellent -- ranking fourth and third, respectively, in the league in earned run average.
On Wednesday, David Schoenfield of ESPN's SweetSpot blog paid homage to Cincinnati's dominating bullpen, when he
assigned grades for every National League's relief staff,
including the Reds, obviously.
Here is what Schoenfield had to say about the Redlegs:
After posting a league-leading 2.65 ERA in 2012, the Reds' bullpen was expected to be even better with full seasons from Broxton and Hoover. While still effective, the pen wasn't on the same level, as Broxton and Marshall battled injuries and Chapman blew five saves -- four of which he took the loss on. New manager Bryan Price has hinted in the past that he'd like to make Chapman a starter but that seems unlikely considering Chapman wants to close and some of his control issues resurfaced last season (4.1 BB/9). Price should also get Chapman more than 63 innings; as big and strong as he is, Chapman should be able to carry a heavier workload and still maintain his stuff.
Grade: B+. I wouldn't be surprised if this bullpen is once again as good as any in the league, with Marshall bouncing back, Hoover improving and LeCure serving in his valuable do-everything role. The wild card is if the Reds decide to trade Homer Bailey (a free agent after 2014) to acquire some offense and give Chapman a shot in the rotation.
I think this is a pretty fair assessment of where the bullpen stands right now. For the record, only the Braves received a grade higher than the Reds, and it wasn't by much (A-).
Under the tutelage of new skipper and former pitching coach, Bryan Price I fully expect the 'pen to be another primary area of strength for the Reds moving forward. Especially if Chapman remains the closer.