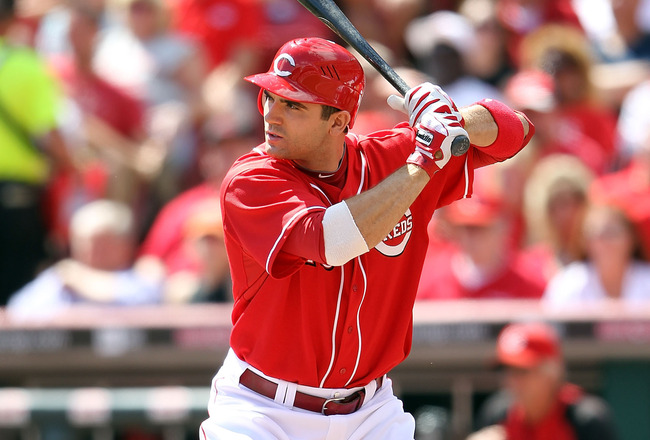 Despite criticism over his perceived lack of power, it's commonly held that Joey Votto is one of the top-hitting first basemen in Major League Baseball.
But what if we could combine the outstanding attributes from several great first basemen to create the perfect player at the position? Well, Matt Snyder of
CBS Sports
has already beaten us to the punch, because he attempted to do just that in his most recent post.
According to Snyder, baseball's perfect first basemen would have, among other characteristics from other players, Votto's "bat" and "plate discipline."
Here is how Snyder justified both attributes:
A career .314 hitter who has topped .320 three times in the past five seasons. He's led the NL in on-base percentage each of the last four seasons and the majors twice in that span. The smooth left-handed swing helps things here, and narrowly gets Votto the vote over now-first-baseman Joe Mauer.
He's led the NL in walks three straight years, despite having only played 111 games in 2012. Last season, Votto swung at only 20 percent of the pitches he saw outside the strike zone, a good 4.2 percent better than any other first baseman. Oh, and for those who don't think he swings at enough strikes, he ranked 12th among 25 qualifying first baseman last season in the percentage of strikes at which he offered.
The plate discipline accolade was really a no-brainer.
To see which attributes from other players Snyder used to comprise the ultimate first basemen, please click on the link provided below.
Via
Eye on Baseball