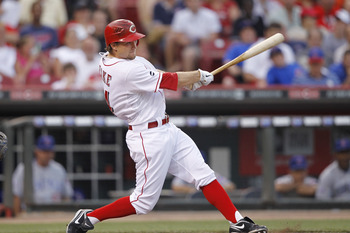 For a pitcher,
Mike Leake
is fairly good at hitting. And it appears he is finally getting some recognition for his modest ability with a bat.
Mike Axisa of CBS Sports
recently took a stab at identifying some of the best hitting pitchers of the past three seasons. Not surprisingly, Leake made the cut.
Since 2011, Leake owns the second-best batting average (.229) in baseball (min. 100 PA) among pitchers, trailing only
Zack Greinke
's .236 clip.
If that wasn't enough to convince you of his merit, Leake also ranked second in OPS+ (50), which combines nearly every offensive statistic and is adjusted accordingly by ballpark factors, and third in oWAR (1.5).
For the record, Greinke topped the list in both of those categories, too. Thus, giving Greinke the dubious title of the best-hitting pitcher in baseball.
Although the purpose for the post was to show which pitchers are the best at hitting, Axisa also notes that even the best fall short of what would be considered a decent hitting position player. Of course, who is to say some of these guys (like Leake) wouldn't be even better at hitting if they could focus more time and energy on it?
In case you are wondering, the 26-year-old owns a .251/.283/.322 slash line in 264 career plate appearances, but batted just .190/.215/.254 last season.