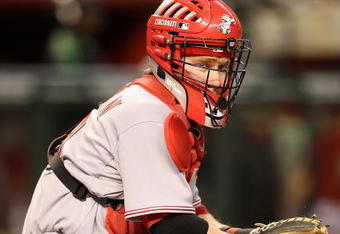 It appears as though
Ryan Hanigan
's days in Cincinnati are numbered.
The writing has been on the wall ever since the Reds agreed to a two-year deal with free agent catcher
Brayan Pena
on Nov. 8. Thus, making the 33-year-old Hanigan the odd man out, with Pena and
Devin Mesoraco
expected to platoon behind the dish in 2014.
On Friday, ESPN's Buster Olney further attested to Hanigan's looming demise by sending out the following tweet:
Ryan Hanigan is going to be traded and there is interest from multiple teams, and the Reds think they'll get a good prospect in return.
— Buster Olney (@Buster_ESPN) November 15, 2013

Hanigan is coming off arguably the worst season of his career, where he batted a lowly .198/.306/.261, far from his career averages of .262/.359/.343.
Of course, Hanigan has been constantly lauded for his role in developing Cincinnati's relatively young pitching staff, and as any savvy baseball knows, dealing with pitchers is the most important job that a catcher has. So, given his knack for building strong relationships with guys on the mound, coupled with his reputation as one of the best defensive backstops in the game (led the league in caught-stealing percentage in 2013 at 45 percent), Hanigan is still very much a wanted commodity around the league.
The Yankees and Rays are two teams rumored to be interested in Hanigan.
What can the Reds get in return for their seasoned veteran? Honestly, probably not too much, but it would be foolish to say Hanigan is not valuable. He is projected to earn $2.3 million through arbitration this offseason and that alone shouldn't deter most teams. Good veteran catchers don't just grow on trees.
Signed as an amateur free agent in 2002, Hanigan has spent his entire professional career with the Reds, and has been a mainstay in the Queen City since 2007.
Via
MLBTR