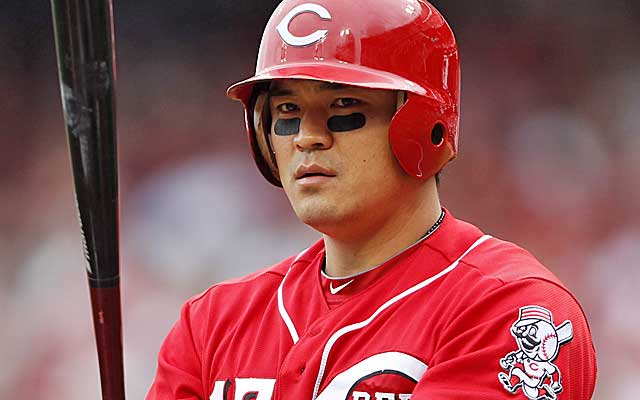 + If you haven't heard, the Reds added much-needed bench depth on Monday when they
announced the signing
of veteran utilityman
Skip Schumaker
to a two-year deal (pending a physical). Schumaker, who is set to turn 34-years-old next season, will give
Bryan Price
a flexible reserve player to work with in his debut season as manager. Schumaker spent last season with the Dodgers after previously spending eight seasons with the rival Cardinals.
+ Although at least six teams have expressed interest in free agent
Bronson Arroyo
, the former Red appeared on "MLB Network Radio on SiriusXM" Monday and told Jim Bowden that none have made him an official offer yet. Here is what he said as transcribed by
C. Trent Rosecrans:
"Yeah, it's definitely in the early stages. Nobody's really put a dollar bill in front of me but I have, I think, the Phillies, the Dodgers, the Angels, the Giants, the Twins, maybe even the Orioles, I think all those teams have called, you know, just to say that they are interested. I'm not really sure how interested, you know? I think the Giants called back a couple of times and so did the Twins. But nobody really wants to put any money down on the table yet. It's a new process for me. It's the first time I've been through it. I figured it could take a while. And there's other guys, I think, in the market. I might not be the first choice for some teams and I think there are some guys on the market that are going to affect how everybody else kind of plays out in the game. So I'm just sitting back and waiting to see who is interested in me. I'm 36. I'm going to pitch [at] 37 next year, but I've never missed a start, I feel like I've got as much energy as anybody at the ballpark on an everyday basis. We'll see what happens. It's going to be interesting."
+ Add the Rangers to the growing list of teams who are reportedly interested in signing free agent
Shin-Soo Choo
.
Jon Heyman
of CBS Sports reports that Texas is considering making a run at the South Korean outfielder. Choo, who spent last year in Cincinnati, is being courted by a whole host of teams and is expected to land a contract in excess of $100 million.