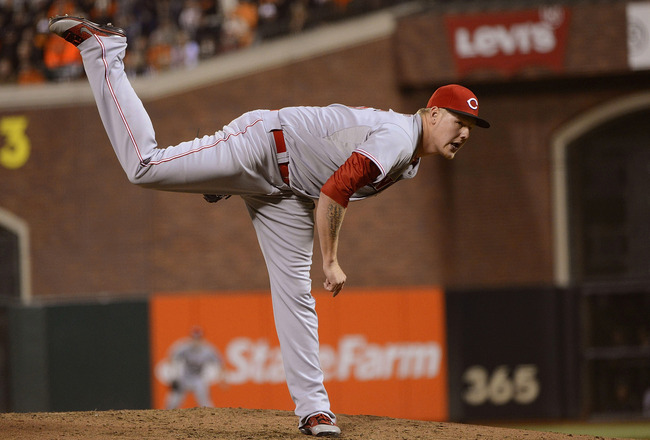 While the likely loss of
Bronson Arroyo
to free agency is a formidable blow to Cincinnati's starting rotation, it's fair to proclaim that new manager
Bryan Price
still has a solid starting five at his disposal.
It begs the question, though: How does Cincinnati's rotation stack up to the rest of the league. Well, according to
Buster Olney of ESPN.com
, the Reds boast the 9th-best staff in baseball.
Here is an excerpt about the Reds taken from Olney's piece:
The Cincinnati rotation generated one of the best performances of any team in 2013, finishing third in ERA -- but once again, the Reds' starters will be at the center of intrigue in spring training because of the ongoing question about how to best utilize Aroldis Chapman.

Former Manager Dusty Baker was never in favor of the idea of using Chapman as a starter, and Chapman himself has said he wants to continue being a reliever. But part of the split between Baker and the front office was over Chapman and his role, and Baker is now gone, while his replacement, Bryan Price, has advocated using Chapman in the rotation. It's worth noting, however, that on the Reds' own website, Chapman is listed as the closer.

The Reds are hoping for the return of Johnny Cueto, to head a rotation that also includesMat Latos, the ever-improving Homer Bailey, Mike Leake and Tony Cingrani. But stayed tuned to see if new manager Bryan Price affects change in Chapman's status.
True, the rotation appears relatively imposing on paper, but there remains a lot of time for change between now and the beginning of the 2014 campaign.
Will Price have his way and slot Chapman into the rotation? Could Bailey be traded ahead of being eligible for free agency next winter? Will Cueto stay healthy? How will Cingrani fare over the course of a full season? These are some of the questions that have yet to be totally answered. In due time, we should find out, though.

For what it's worth, Reds starters ranked third in Major League Baseball in 2013 with an ERA of 3.43. They also ranked tied for second in batting average against with a clip of .245.