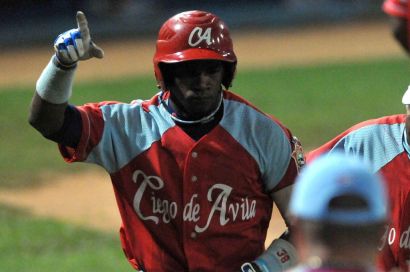 There may be another twist in the bidding for free agent
Shin-Soo Choo
.
On the heels of a report claiming Choo turned his nose up at a $140 million offer from the Yankees,
Ben Badler of Baseball America
reports that a 26-year-old Cuban outfielder by the name of Rusney Castillo has defected in an attempt to latch onto a major league team in the United States.
Why is this relevant to Choo and the rest of the teams vying for his services? Well, as
AJ Mass of ESPN Insider
astutely points out, clubs have been hesitant to give in to Choo and agent Scott Boras' contract demands this winter. Choo is reportedly seeking an eight-year deal in the proximity of $150 million over the life of the contract.
Additionally, another hurdle for teams wanting to sign Choo is the reality of losing a draft pick by signing him. In an effort to avoid surrendering a high draft pick, coupled with saving considerable cash, Mass posits that teams may be willing to wait and see how Castillo's situation pans out, instead. But there are some dominoes that need to fall into place first.
There are still several steps for Castillo to take before teams can start the bidding for his services, as he first must establish residency in another country, and then be cleared to play by the United States government. That process could presumably be completed before the start of the 2014 season, but perhaps not until spring training games have already gotten under way.
Castillo might not have anything close to Choo's upside, especially in the short term, but he profiles as a pretty good player. Here's how Badler describes Castillo's skill set: "Castillo is short but has a strong, athletic frame at 5-foot-9 and 185 pounds. His best tool is his speed, as he's an above-average runner and one of the better base stealers in Cuba. More of a doubles hitter than a big home run threat, Castillo puts a charge into the ball with a line-drive right-handed swing. Primarily a center fielder in Cuba, Castillo has also played some second and third base, so his versatility could be a draw for some teams. He's an aggressive, high-energy player, though some teams view him as a fourth outfielder."
This development could potentially be good news for the Reds as it pertains to the small chance of signing Choo. However, the chances of that happening are still slimmer than a piece of printer paper. But you can never say never.
Photo Credit: Letra Nueva