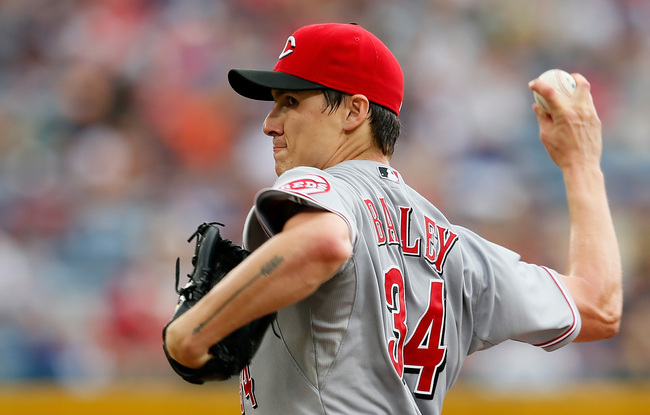 Should the Reds trade
Homer Bailey
this offseason? Absolutely, according to Jim Bowden of ESPN and Sirius XM radio.
Here is what the opinionated Bowden had to say about Bailey:
This one is a bit tricky, because like Kershaw, Scherzer and Lester, he could be the key for his club making the playoffs. Bailey, 27, is coming off his second straight season with more than 200 innings and an ERA below 3.70.

Of course, if he has another season like that the Reds have no shot at re-signing him, and with Johnny Cueto, Mat Latos, Mike Leake and Tony Cingrani, they have good starting pitching depth. There are teams who would pay a big price for a pitcher like Bailey, and the Reds could re-sign Bronson Arroyo on a two-year deal and shop Bailey to get a right-handed bat or significant prospect package.
Simply put, there are few things I agree with Bowden on. He mainly serves as a source of entertainment and a non-stop machine for producing debatable topics. However, I tend to side with Bowden's sentiments here with Bailey.
The 28-year-old is projected to earn north of $9 million next season, and if he continues to pitch the way he has, he will no doubt demand even more once he hits the free agent market next winter. The native Texan has shown steady progress over the past five seasons to the point where he is just now realizing his full potential. The fact that he is entering the prime years of his athletic career while his value is at an all-time high makes him an extremely tempting trade chip for the Reds. The value they could seek and receive in a deal is sure to be worthwhile.
Of course, the other side of the coin is something Bowden alluded to in his excerpt about Bailey. Bailey's arm could very well be the key to whether or not the Reds fail or succeed to make the postseason in 2014. And that is certainly something for GM Walt Jocketty to weigh when pondering the idea of moving him.
But the bottom line here is that it's highly unlikely Bailey will be a Red beyond next season. He is simply becoming too good and the price tag associated with keeping him will just be too high for Cincinnati. This is why the Reds have to seriously consider parting ways with him in order to get something of value in return for the future. The alternative is having him pitch for one more year and then receiving nothing aside from maybe a compensatory draft pick with he inevitably signs with another franchise.