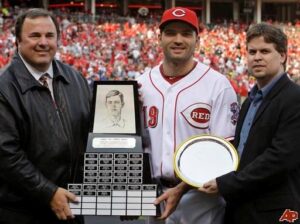 For the fourth time in as many years, the
Canadian Baseball Hall of Fame
has bestowed the Tip O'Neil Award to
Joey Votto
.
Votto becomes the first player to win the award four consecutive years. This is after he became only the second player to earn the honor three years in a row.
"Joey Votto is not only a superstar on the field, but he's also an inspiration and a difference-maker away from the ballpark," said Scott Crawford, the Hall of Fame's director of operations said in a statement.
"There was a very strong field of candidates this year, but Joey deserves this honor for his tremendous contributions both on and off the field."
The award is determined by factoring in each candidate's on-the-field performance, contributions to their team, community and charitable endeavors, and fan voting. Beginning Nov. 27, the Canadian Baseball Hall of Fame encouraged fans to vote and received hundreds of ballots in response.
In 2013, Votto led the league in on-base percentage (.435), walks (135), times on base (316), and games played at first base (161). He batted over .300 for the fifth straight season, while belting 24 home runs, en route to finishing sixth in MVP voting.
Earlier this month, Votto launched the Joey Votto Foundation, which is designed to help military veterans and active service members in the Cincinnati and Toronto area deal with post-traumatic stress disorder. The foundation aims to extend care to 500 new patients each year.
Votto will be presented with his award during a pre-game ceremony at Great American Ball Park next season.
Photo: Votto receives his award at GABP in 2011 (Credit: AP)