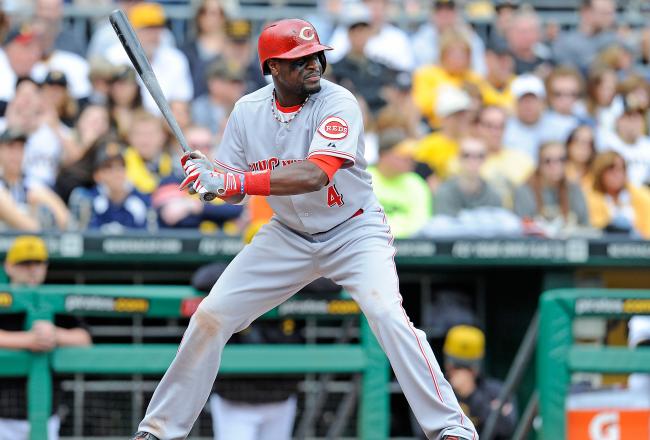 The New York Yankees came up empty in their bid to keep free agent second basemen
Robinson Cano
in Pinstripes. Instead, Cano opted to sign with the Seattle Mariners to close the deal on the third-richest contract in baseball history.
However, the Yankees cannot be blamed for not trying to retain Cano's services. In fact, Reds general manager Walt Jocketty even claims that the Yankees were so desperate to keep Cano that they manufactured trade speculation about
Brandon Phillips
in order to help in negotiations with Phillips.
Walt says Yankees leaked info that they called him about BP as a negotiating tactic with Cano #RedsFest
— ctrent (@ctrent) December 7, 2013
Jocketty made the comments during Redsfest on Saturday and they immediately became a national headline. Whether the Yankees did or did not "leak" the alleged rumor may never be truly known. But Jocketty's comments could also be taken to be a little on the defensive side. After weeks of rumors claiming Phillips was as good as gone in Cincinnati, Jocketty and the Reds attempted to patch things up this week through a series of radio interviews refuting such rumors. Oh, and Jocketty even allegedly told Phillips himself that he isn't being shopped, but did add that if a trade opportunity arose to help the team, he would have to seriously consider it, whether the trade included Phillips or not.
Walt also said he can't say he wouldn't trade anyone, including Phillips. Leaving door open
— ctrent (@ctrent) December 7, 2013
Personally, I'm not completely sold the Reds are genuine in their claim that they are no longer hellbent on trading their All-Star second basemen. Earlier in the offseason, I said I believed the chances of him actually being traded were about 40-60. Now, after several attempts by the club to posture and spin public perception on the matter, I'm very skeptical about Cincinnati's true intentions. It almost seems like the more Jocketty and owner Bob Castellini speak publicly on the matter, the more deceitful they become. With Redsfest being this week, the Reds had no choice but to extend an olive branch to Phillips, but now that the annual event is over, I wouldn't be surprised if the front office phones were buzzing on Sunday. Ironically, one of those teams on the other line may be the Yankees. Time will tell.