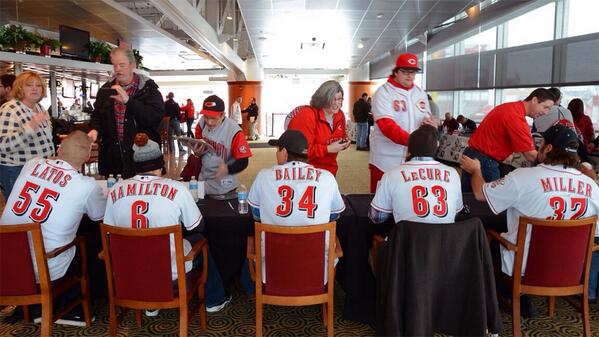 The 2014 edition of the Reds Caravan concluded on Sunday with the "
Select-A-Seat"
event for season ticket holders at Great American Ball Park. The four-day annual tour around Reds country provided fans with ample opportunities to get up close and personal with players, coaches, and employees of the Reds. And it also provided those of us hungry for baseball news with something to talk about.
Here are some of the notable quotes and notes from the mobile fan fest:
+
Homer Bailey
was asked about how contract extension talks were going (if any) before Sunday's final stop at GABP. It seems the right-hander continues to be patient and cautious in his approach.

"There is [interest], but it has to be something that works out for both ends," Bailey said."That's kind of tough to do. You see a lot of the signings that are going on, so, of course, it's going to raise eyebrows on my behalf. Obviously, with a mid-market team, it's tougher for them, also. We're just going to have to see how everything goes."
"That's just a gamble that every player takes," Bailey said. "There's always risk of injury or no performance or whatever the case may be."
+
This one will be music to some people's ears. Price said Sunday that he plans to insert
Jay Bruce
into the No. 4 hole in the batting order on occasion. Especially against right-handed pitching.
+ Price also said that he wants to get more than 60 innings from
Aroldis Chapman
this season. Do you hear that? It's the sound of collective applause from every Reds fan alive.
+
Don't expect the Reds to sign free agent outfielder
Nelson Cruz
. General manager Walt Jocketty said he has
no interest and that he likes the way the roster is currently constructed.
"I would say no," Jocketty said when asked."We don't want to give up the draft pick. I like the way our club is now."
+
Mat Latos
says "
everything is fine
" following arthroscopic surgery to remove bone chips from his right elbow. The tall right-hander is currently long tossing and is on schedule to be good to go by spring training.
+
Billy Hamilton
was the
man of the hour
on the Hamilton, Ohio leg of the tour. One young fan reportedly asked the speedster if he was faster than a car. His response was priceless.
"If it's in park, then yes I am," Hamilton replied, getting laughs.
"I don't feel pressure," he said. This is how it usually is before a season. I know what my job is. It's to come in and spot up (Shin-Soo) Choo. It's going to be tough to do what he did.

"I've got to learn to stick to my game," he said. "Sometimes I get away from my game and try to do too much. I know if I keep the ball out of the air, I've got a good chance to get on. I've learned that."
+
There is perhaps no baseball figure more loved in Louisville than
Corky Miller
. After all, the mustached catcher has spent many summers in the 'Ville playing for Cincinnati's Triple-A affiliate. Naturally, he was the
main attraction
when the Reds Caravan made a stop at Louisville Slugger Field.

"I think he relates to the people, to the culture, to the kind of mentality of the city and its work ethic," Bats play-by-play broadcaster Matt Andrews said. "Obviously, when you're anywhere 10 years -- especially at this level, not at the highest level but you're trying to get back there like he continuously does and keeps coming back -- that's what makes him so endearing to fans. He's interactive with the fans. He's the country boy. He's a big part of what we do in the community too."
+ I thought this tweet from C. Trent Rosecrans about
Brayan Pena
was notable.
#Reds Brayan Pena @cuban2727 asked what his walk-up music will be. answers he'll have to ask his wife 'she runs the household'
— ctrent (@ctrent) January 26, 2014
+
Oh, and this one from Mark Sheldon.
At fan Q&A, Bailey asked if there is one hitter he wants to face. Reply: "Matt Garza. He doesn't have any hits. Or Edinson Volquez." #reds
— Mark Sheldon (@m_sheldon) January 26, 2014
+ Lastly, COO Phil Castellini says there will be a new craft beer bar at GABP in 2014. So, that's certainly something to keep in mind for all of you brew-lovers out there.
Photo Credit: @Reds (Twitter)