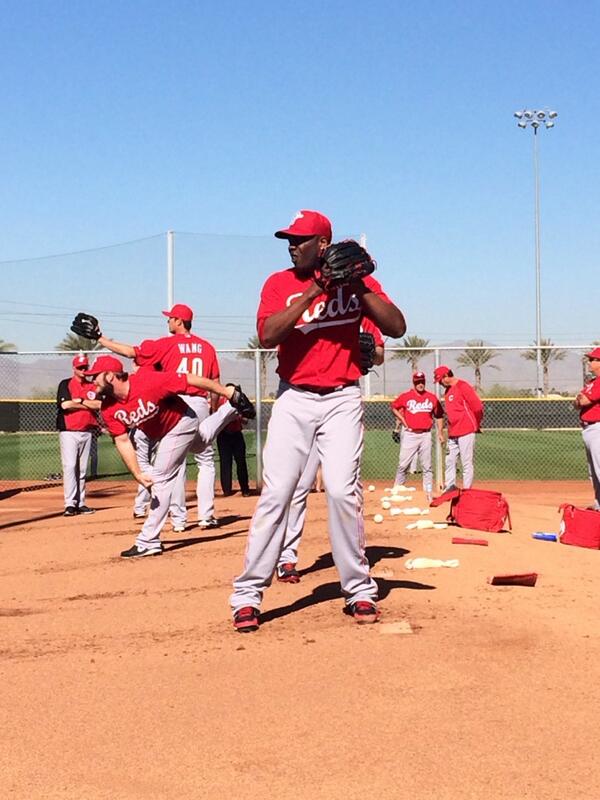 We're now in full swing when it comes to spring training and that means there's been no shortage of Cincinnati Reds news lately. So let's get you caught up on things:
+ Despite taking a vow of silence with the media this spring,
Brandon Phillips
decided to
open up with FOX19
to talk about trade rumors, among other topics. If you watch the short video, you will see that
Jay Bruce
and Bob Castellini had nothing but complimentary things to say about him. Meanwhile, Phillips said he would
really like the opportunity to retire as a Red.
+ Remember how the
Reds reportedly tried to acquire
Yankees outfielder
Brett Gardner
in exchange for Phillips? Well, New York has
signed Gardner to a contract extension worth $52 million
over four seasons. Ironically, that's the exact same contract Phillips currently has with the Reds. In my opinion, it's going to be extremely interesting to see how each of their careers pan out during that span.
+ The debate has and will likely continue to rage on about
Joey Votto
's lack of RBI. Some argue that his low RBI total is a detriment to the team while others point toward on-base percentage and other sabermetric statistics to counter that claim. With that said,
Mark Sheldon of MLB.com
writes how Votto is not concerned about the way people perceive his play, saying he just wants to take advantage of every opportunity he is given in order to help the team.
+
C. Trent Rosecrans has revealed
who is set to start Wednesday's spring opener.
Alfredo Simon will start #Reds Wednesday's Cactus League opener. They'll stretch him out, just in case, and pull back near end of camp
— ctrent (@ctrent) February 24, 2014
+
Mat Latos
' recovery from knee surgery continues to go well. On Monday,
Jim Day of FOX Sports Ohio
observed the big right-hander throwing from 150 feet and tweets Latos could throw off the mount by week's end. So, that's definitely encouraging!
Latos just long tossed from 150 feet, arm strength and knee look good. I'm told he could be throwing off mound by end of week. #reds
— Jim Day (@JimDayTV) February 24, 2014
+
Chien-Ming Wang
is blazing the comeback trail with the Reds, writes
MLB.com's Mark Sheldon
. At age 34, and after battling various shoulder and foot ailments, Wang's best years are probably behind him. But that's not to say he can't help Cincinnati at some point down the road.
+ "Selfie" was
named the word of the year
in 2013 by Oxford Dictionaries. Unless you've been in a coma, you've probably heard the term used by now. With that said, the
Cincinnati Enquirer has a priceless photo gallery
of Reds player taking selfies.
+ On Sunday,
ESPN.com's Jerry Crasnick
published a feature piece on
Billy Hamilton
as it pertains to the switch hitter's development into becoming Cincy's everyday center fielder.
+
Jason Bourgeois
is one of the non-roster players in spring training hoping to earn a spot on the Opening Day roster, writes
Mark Sheldon of MLB.com
. As Sheldon notes, Bourgeois has had some success in the National League Central Division before with the Astros and Brewers.
+ Major League Baseball has instituted Rule 7.13 just in time for the new season. What's Rule 7.13? Well, it has to do with collisions at home plate and you can
read all about it right here
.
+ Top prospect
Robert Stephenson
turned 21-years-old today.
+ In case you missed it, here are
news and notes from Sunday.
+ Only 35 more days (five weeks) until Opening Day.
Photo Credit: @JimDayTV