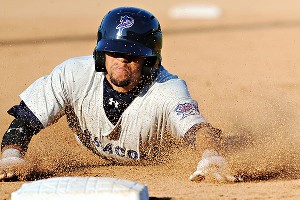 According to
Keith Law of ESPN Insider
,
Billy Hamilton
is among some of the top impact prospects in baseball for 2014. That in and of itself shouldn't be a shock to too many folks in Reds Country, who have been waiting to watch Hamilton play again since the speedster stole the September spotlight last season.
Here's what Law had to say about pegging Hamilton 7th on the list:
The Reds are giving professional baseball's fastest man the center field job -- there's no proper backup on the roster, as Skip Schumaker can't handle center on more than an emergency basis -- and we're about to find out whether Hamilton can hit.
His total lack of power has become a problem, especially from the left side, as pitchers crowd him in to prevent him from slapping the ball the other way and beating out every ground ball. If he holds the job all year, he could still swipe 50-60 bases even with a low (think .300ish) OBP, and I think he'll save 10 runs a year on defense.
There is no denying Hamilton's speed on the bases and his ability to cover ground in the outfield. However, there is serious concern over whether he can handle big league pitching on an everyday basis, especially when hitting at the top of the lineup. If all goes well, it could be a fun ride watching Hamilton serve as catalyst for the Reds. But if not, and Hamilton struggles, we could be in for a season like 2011. *Gulp*
Photo: AP/Tony Farlow