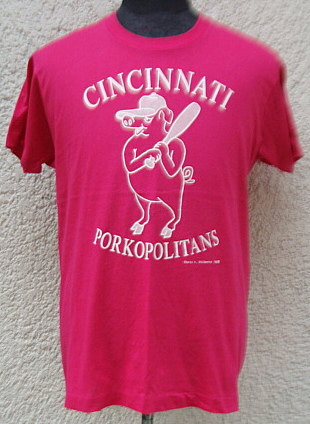 + It was reported yesterday by Cincinnati Enquirer's C. Trent Rosecrans that MLB Network was scheduled to televise nine Reds games this spring.
That's since been changed to 11.
So hooray for more games!
+ Rosecrans' colleague, John Fay, notes that
Bryan Price liked what he saw
from top pitching prospects
Robert Stephenson
and
Michael Lorenzen
during the first day of live batting practice. Price lauded each for having "easy deliveries" which create "deception" for hitters. Awesome.
+
Mat Latos
continues to recover well after having minor knee surgery last week. Fay says Latos threw from 60 feet Friday morning. It was his third straight day of throwing off flat ground.
+
Mark Sheldon of MLB.com
writes that
Johnny Cueto
is looking to become more of a clubhouse leader in 2014. One of the ways he's attempting to do that is by honing his English-speaking skills. It goes without saying, but the Reds will need Cueto's leadership more than ever with
Bronson Arroyo
being gone.
+ Our very own Sara Frey wrapped up this week's National League Central Division previews by
penning a piece on the Cardinals
on Thursday. Whether we want to admit it or not, I think most Reds fans will agree that St. Louis is the team to beat in the division right now.
+ How does Cincinnati stack up against the rest of Major League Baseball teams? I suppose that's up for debate, but
Jonah Keri of Grantland.com
believes the Reds are the 10th-best team, according to his recently published list of power rankings. I'd say that's pretty fair.
+ Our friend
Tyler Duma over at the Bleacher Report
published an article on Friday highlighting four potential breakout candidates to watch during spring training. Hey, I'd just assume that all four Reds players "breakout" and have stellar seasons. That would be nice.
+ You know what else would be nice? If
Brandon Phillips
had a monster season to silence his critics.
Jesse Borek of Blog Red Machine
thinks that's precisely what is bound to happen in 2014.
+ Were the Reds once colloquially known as the "Porkopolitans?" According to this 1896 news clipping from the
Chicago Daily Tribune
, yes, it would appear so. [
Eye On Baseball
]
+
Jonathan Broxton
is
ready to get back on the mound again.
His rehabilitation from a torn flexor tendon sounds like it's going well. On Monday, he's due to throw off a mound for the first time since suffering the injury last August.
+ Bleacher Report's
Jason Martin
ez writes why
Homer Bailey
's $105 million contract extension is
good value for Cincinnati.
+ Speaking of Bailey,
David Schoenfield of ESPN's SweetSpot
explains how Bailey's new accord with the Reds weakens the potential 2015 free agent class. Basically, pitchers such as
Max Scherzer
,
James Shields
, and
Justin Masterson
, among others, just got a little more valuable.
+ The guys at
Redleg Nation
recently caught up with outfield prospect
Jesse Winker
to talk about his life and career as a Reds minor leaguer. The audio quality isn't great, but the podcast
can be heard at this link
.
+ The
2014 promotional schedule
is now complete. If you're trying to figure out which games to attend this season, you may want to reference this.
+ In case you missed it, here are
Thursday's' Reds news and notes
.
+ Only 38 more days until Opening Day, guys. Thirty eight.
Photo: Etsy.com