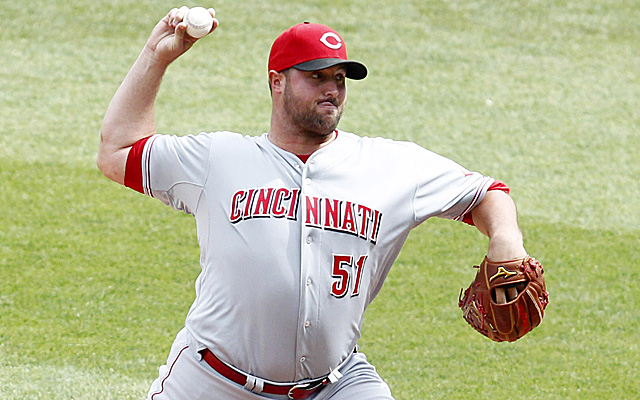 Does
Jonathan Broxton
's contract with the Reds qualify as one of the worst deals in baseball?
According to
Jonah Keri of Grantland.com
, the answer to that question is yes.
On Wednesday, Keri published a piece in which he highlighted the worst contracts in all of baseball. Long story short, he used six rules to justify his selections, which resulted in a top 15 list.
One of the players on that list included Broxton. You may remember that the right-hander signed a two-year extension worth $17 million prior to last season. As it stands now, that has not been money well spent, as injuries limited Broxton to just 30 innings in 2013, which he posted a 4.11 ERA.
Although the 32-year-old made $4 million last year, he is set to receive $7 million in 2014, and $9 million in 2015, with a guaranteed $1 million buyout on a $9 million option come 2016. Geez.
Broxton could very well change the tale of the tape over the next few seasons. But it's going to be extremely hard to live up to the kind of money the Reds are paying him to pitch as a non-closer.
For the record,
Brandon Phillips
' contract was not listed among the top 15, which may come as a surprise to some, who have continually harped on the illegitimacy of his remaining deal (4yrs/$52M). I'm not among that crowd, though. I believe Phillips' will be worth his keep a little more than Broxton will.
Photo Credit: USA Today