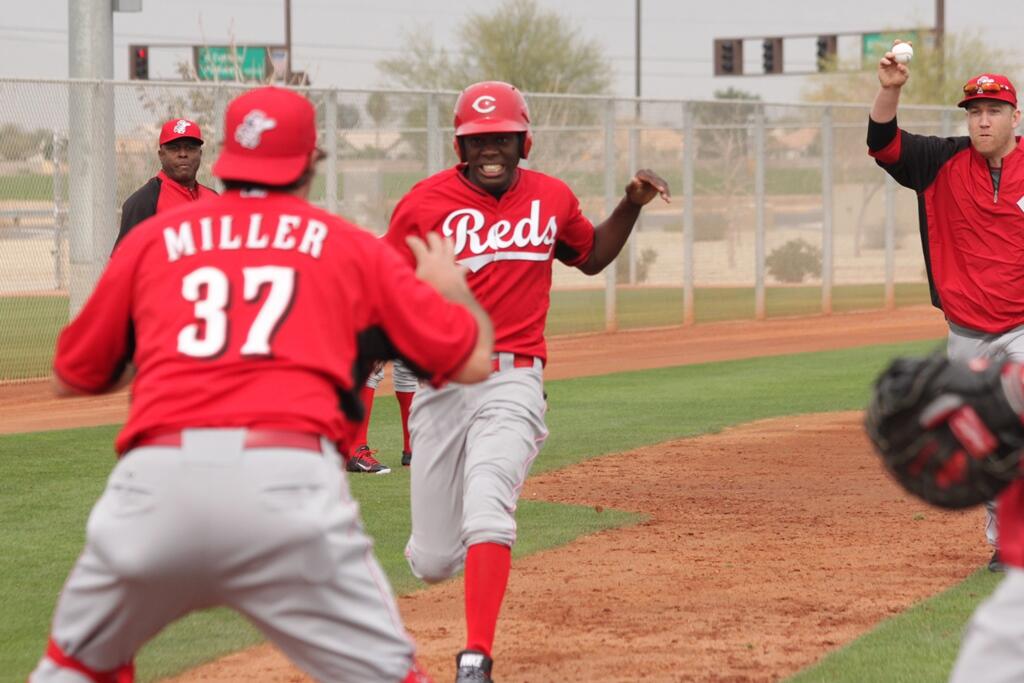 + The photo seen above was taken by Reds assistant director of media relations
Jamie Ramsey
. As you can see, veterans
Todd Frazier
and
Corky Miller
had one of the youngsters caught up in a pickle. It's safe to assume that he didn't make it out of the rundown safely.
+
Bryan Price
is reluctant to name an Opening Day starting pitcher just yet. However, it doesn't appear
Mat Latos
' name will be in the mix. John Fay says they're taking their time bringing Latos back from knee surgery. Plus, thanks to an off day following the season opener, the Reds won't need a fifth starter until Sunday, April 6 against the Mets.
#Reds don't need a fifth starter until April 6, so they could wait till then on Latos. Latos is doing well but hasn't thrown off the mound
— John Fay (@johnfayman) February 25, 2014
+ Speaking of Price, the first-year manager is pleased about what he has seen in camp so far, writes
MLB.com's Mark Sheldon
.
+ How good of an acquisition has
J.J. Hoover
proven to be for the Reds? Sheldon writes about how
perseverance has paid off for the right-hander
. After leading the pitching staff with 69 appearances in 2013, Hoover will be counted heavily on again in 2014.
+ Former Reds reliever
Carlos Fisher
has inked a deal with the Somerset Patriots of the Atlantic League. Fisher pitched for the Reds from 2009 to 2011 appearing in 74 games and tallying a 4.74 ERA.
+ Another former Red,
Adam Dunn
, who is an investor in the Academy Award-nominated film "Dallas Buyers Club," has
an invitation to attend the Oscars
on Sunday. Dunn also has a cameo role in the film as a bartender. At the time of this writing, Dunn was
still undecided on whether or not to go
, because he was afraid of ruffling feathers within the White Sox organization. My opinion? He should go. It could be a once-in-a-lifetime opportunity for him. It sounds like
he's leaning toward going, though.
+
Billy Hamilton
and
Donald Lutz
had themselves a
nice time out and about Monday night
,
Jesse writes. Apparently, 2 Chainz is all that and a bag of chips.
+ Reds prospect
Juan Duran
was putting on a show at batting practice this afternoon, judging by these tweets from Fay and C. Trent Rosecrans.
Watched Juan Duran take BP. He's got some serious power, Hit one about 400 feet the opposite way to right. #reds
— John Fay (@johnfayman) February 25, 2014
Juan Duran's BP is worth the price if admission. Just saw one of the longest shots I've seen this year & it was to RC. He's a RH batter
— ctrent (@ctrent) February 25, 2014
+ I stumbled across World Series odds earlier today. I then discovered that Las Vegas oddsmakers currently give the Reds
a 22/1 shot to win it all.
That was good enough for 13th-best among all 30 teams. I've got to ask, would you take that bet on our beloved Redlegs?
+ The third annual Skyline Chili Reds Futures High School Showcase is
increasing the number of participating schools from 64 to 72 this year.
The showcase features 36 games from March 29 to April 27 to be played at various locations around the greater Cincinnati and northern Kentucky area.
+
Ozzie Smith
is partnering with Budweiser to petition the White House
to make MLB Opening Day a national holiday
. Now, that's a cause I can get behind.
+ In case you missed it, Jon took a stab at previewing Reds catchers this morning. Have a
look by following this link to the post.
+ Also of the "in case you missed it" variety, here are
news and notes from yesterday.
+ We're down to 34 days until Opening Day. Luckily, we don't have to wait that long to watch a Reds game, though. They open their spring slate tomorrow at 3:05 p.m. against the Indians.
Alfredo Simon
will take the hill for the good guys.
+ Here's a look at the lineup for Wednesday. No surprises, really.
Wednesday, 2/26 #Reds lineup vs. Indians #SpringTraining pic.twitter.com/L25Qd4FlRM
— Reds (@Reds) February 25, 2014