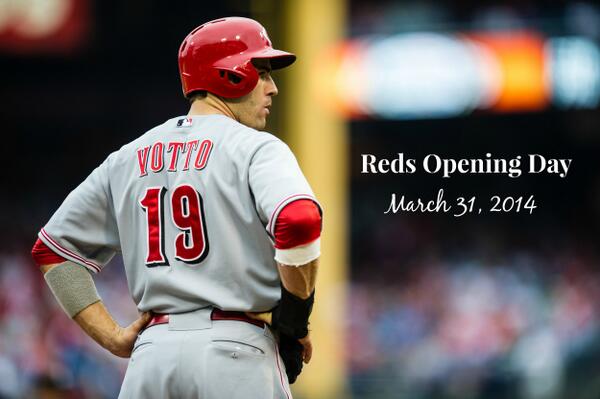 + I came across this earlier today and thought it was interesting enough to share. Here's
a link to a video which shows a behind-the-scenes look
at Reds public address announcer Joe Zerhusen. Many of us have heard his voice time and time again while visiting Great American Ball Park. But here's your chance to finally put a face with the voice!
+
Jose Diaz
could have a breakout season, writes
John Fay of the Cincinnati Enquirer
. The right-hander turned some heads when he entered camp 70 pounds lighter than he was at the end of 2013. Despite the weight reduction, Diaz has not lost any velocity on his fastball, averaging between 95-97 mph this spring. I think I speak for most fans when saying he has a lot of people rooting for him to succeed.
+
Jonathan Broxton
took another step forward in his recovery from elbow surgery by facing live hitters on Tuesday. He said his "
arm felt great
," but admitted his "command was a little rusty." The next step for Broxton is a bullpen session on Thursday.
+ Mark Berry, who was diagnosed with cancer last spring,
checked into the spring training facility on Tuesday.
Berry stepped down from his third base coaching duties after not feeling up to the role. He'll serve as a floating minor league instructor in 2014, instead. The 51-year-old has been apart of the Cincinnati organization since 1984.
+
ESPN's Buster Olney
is expecting big things from
Billy Hamilton
this season. I'd venture to say Olney is not alone in his expectations.
+
Jason Linden of Redleg Nation
offers a 2014 season preview of Devin Mesoraco. Needless to say, the franchise needs more production out of the young catcher with Ryan Hanigan gone.
+
Bill Bender of the Sporting News
provided a fantasy baseball preview of the Reds today.
+ FOX Sports Ohio has announced its
145-game television schedule.
+ In case you missed it, a total of
16 players were cut from the roster on Tuesday
. One of the casualties included infielder
Henry Rodriguez
, who was released for the second time in a month. The trimming of the roster leaves the total players left in camp at 44. Remember, Bryan Price will have to get that number down to 25 by March 31 (Opening Day).
+ Although losing
Bronson Arroyo
is a tough blow for the club, I'm excited to see what
Tony Cingrani
can do with a full season's worth of starts. The southpaw was outstanding in his rookie campaign and the Reds expect more of the same in his second go-around, writes
MLB.com's Mike Bauman
.
+ Lastly,
a recent study
conducted by an Xavier University professor concluded that Cincinnati residents rank third in the country for intense identification with their local teams. In other words, only Atlanta and Seattle citizens are more rabid for their sports teams than Cincinnati's.
+ Only 19 more days until Opening Day!
Photo Credit: @Reds