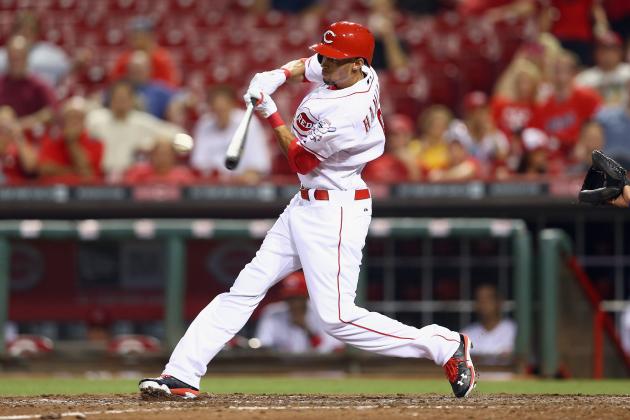 The Reds aren't the only ones counting on
Billy Hamilton
's nimble legs in 2014.
With fantasy baseball owners all across America preparing for the regular season, Hamilton has been targeted as player that many fantasy owners want to get their proverbial hands on. The 23-year-old offers something that has become a rarity in modern day baseball and that something is stolen bases.
If all goes well, Hamilton could realistically swipe more than 100 bags this year and that's worth a lot of value in fantasy baseball leagues.
ESPN Insiders Keith Law and Jason Collette
are aware of this and that's why they recently dubbed Hamilton as the fourth-best fantasy prospect for the 2014 season.
Here's what the combo of Law and Collete wrote about Hamilton:
Hamilton is the one player in fantasy baseball who can guarantee you a top-three finish in a category on his own. You can draft Clayton Kershaw, but you have to put some effort into your other selections to win strikeouts or a ratio category. That's not the case with Hamilton; he could not start full-time and still lead the league in steals. Omar Moreno once stole 60 bases with a sub-.300 on-base percentage, and Hamilton could match that if the Reds leave him in the lineup and live with his flaws.
From Keith Law's Top 100: "His issue is that pitchers have begun crowding him on the inner half because his wrists aren't strong enough to handle hard stuff in on his hands; you need a certain degree of hand/wrist strength to hit what major league pitchers are throwing, especially to that area of the zone. If he can find that missing strength, he has the other tools to be an impact player -- his speed is game-changing, and he's already an above-average defender in center."
Count me among the large contingent of fans who cannot wait to see Billy run wild on the basepaths. It should prove to extremely exciting to watch.
Photo Credit: Getty Images