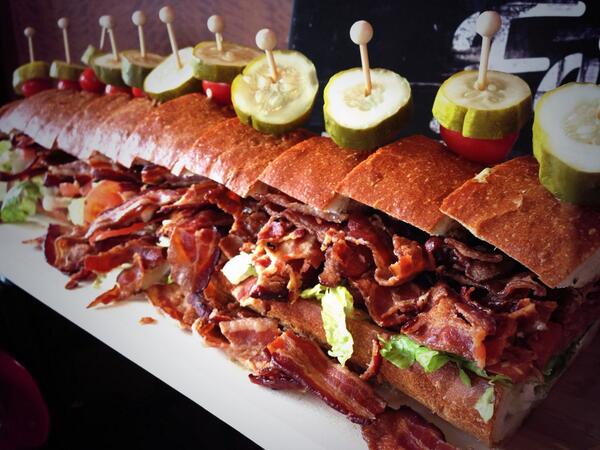 The Reds face many challenges in their bid to reach the postseason for the fourth time in five seasons. Aside from weathering a flurry of spring training injuries, Cincinnati will have to contend with the division favorite Cardinals, a scrappy Pirates bunch, improved Cubs and Brewers squads and replace the voids left behind by free agents Bronson Arroyo and Shin-Soo Choo.
Fortunately, Reds fans won't have to bear the burden of such daunting tasks. But what fans can do, however, is partake in The Bacon Challenge at Great American Ball Park, which is not for the faint of heart nor for the folks who scoff at the idea of crazy amounts of culinary goodness in one setting.
Here are the details of this aforementioned challenge:
The Bacon Challenge at the Machine Room Grille – The Bacon, a new sandwich featuring a one-pound slab of bacon topped with shredded lettuce, tomato and black pepper mayo on an artisan roll, is served with chips, half of a pickle and potato salad. Fans can visit the Machine Room Grille and take The Bacon Challenge of eating four sandwiches (plus the fixin's) in one inning. Fans who complete the challenge will receive the four sandwiches for free plus an "I Conquered The Bacon Challenge" t-shirt.
Sign me up, guys.Who's with me?
Via
Jamie Ramsey of Better off Red
(Photo: @OMGReds)