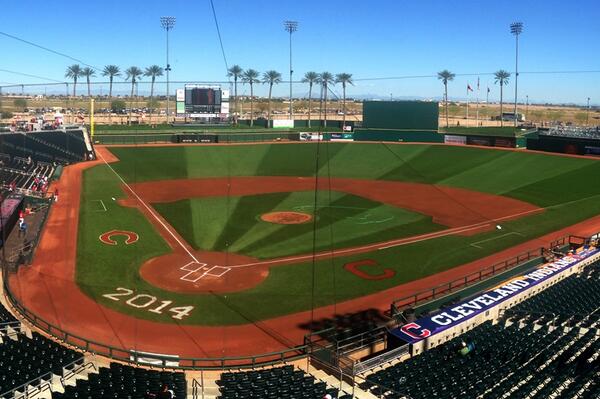 + MLB Network paid a visit to camp on Saturday and came away with several video interviews of players including
Joey Votto
,
Jay Bruce
,
Mat Latos
,
Todd Frazier
,
Homer Bailey
and
Billy Hamilton
. You can watch
all of these aforementioned videos in this one post.
+ MLB Network also
produced a season prediction video for the Reds
, but this one came inside the friendly confines of their network studio.
+
Mark Sheldon of MLB.com
provides a recap of the whipping the Reds put on the Padres on Sunday. Cincinnati is currently locked in a battle with the Mariners at the time of this writing.
+ Reds owner Bob Castellini spoke with John Fay of the Cincinnati Enquirer recently about the team's finances, season ticket sales, and more. In regards to season ticket sales,
Castellini appeared to have shifted the blame
for the Reds not selling as many tickets as they hoped due to what local writers have been saying this offseason. In short, Castellini criticized writers for saying the team "has done nothing" this winter, when in fact they are really just banking on the players they have coming back.
+ Here's more on Castellini's comments from a St. Louis perspective, courtesy of
Jeff Gordon of the St. Louis Post Dispatch.
Despite setting a new attendance record in 2013 with 2.53 million, the Reds still fell well shy of the 3.37 million fans the Cardinals drew.
+ For those of you looking to catch a Triple-A game in Louisville this year, the Bats Signal blog has
highlighted 15 promotions you might be interested in.
As a fan who has personally been to many games at Louisville Slugger Field over the years, I can assure you that it's a good time. It's also quite more affordable than a major league game, by comparison.
+ Former Reds minor league pitcher
Loek Van Mil
has reportedly signed overseas, according to this tweet by C. Trent Rosecrans.
Just saw from @mlbtraderumors that former #Reds farmhand Loek Van Mil has signed with the Rakuten Golden Eagles in Japan
— ctrent (@ctrent) March 3, 2014
+
Kyle Newport of the Bleacher Report
projects what Cincy's Opening Day roster may look like. I'm going out on the limb here, but I'd say Votto will be on there.
+ A trivia show by the name of "Beer Money" is
slated to premiere on Fox Sports Ohio
in April following Reds Live. That should be fun, I suppose.
+ Only 28 more days until Opening Day.
+ In case you missed it, here are
Sunday's news and notes
.
Photo Credit: Goodyear Ballpark (@Reds)