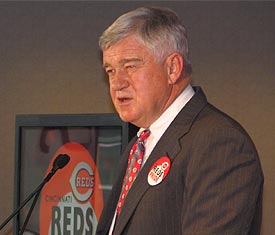 Reds owner Bob Castellini is not happy with the way the media has portrayed his team this offseason. Namely, as it pertains to Cincinnati's relatively quiet offseason.
Over the winter, Cincinnati lost
Shin-Soo Choo
and
Bronson Arroyo
to free agency, signed
Skip Schumaker
and
Brayan Pena
, traded
Ryan Hanigan
for pitching prospect
David Holmberg
, and signed
Homer Bailey
to a long-term extension. All in all, outside of Bailey's contract extension, it was not exactly an offseason filled with activity for the Reds. And that's the picture the media has been painting recently.
However, Castellini told
John Fay of the Cincinnat Enquirer
that the media isn't telling the whole story, and it's causing the team to have a tougher team selling tickets.
"That season-ticket number is the most important number we can generate," Castellini said. "Sponsorships are very important. Advertising is important. But the biggest thing we concentrate on is season tickets.
"So when you guys start writing right during the caravan about money, the fact that we didn't add any guys ... well, we had all these guys hurt. We knew we wanted to sign Homer. We knew we were going to make some other commitments. It's not that we didn't look. It gets written in such a way – 'Well, the Reds aren't doing anything' – that really does affect people buying season tickets.
"Personally, I get a little ticked off. That's life. But it's the franchise. (Chief operating officer) Phil (Castellini) and his guys are out there trying to sell 20-game packages. It hurts when (the media is obsessed with money). It came at the wrong time with the wrong emphasis. That hurts us. If you're going to write that we didn't sign anybody, at least write that we had (Johnny) Cueto, (Ryan) Ludwick and all these other guys hurt."
Despite what Castellini's comments may lead you to believe, as Fay astutely notes, season ticket sales are actually up compared to last year, however still fall short of the club's goal of 13,000 to 14,000. Furthermore, attendance has increased each and every season since 2007, thanks in part to earning a postseason berth in three of the last four years.
I understand that the media holds a lot of influential power over viewers. But to blame under performing ticket sales based on what local writers say or don't say seems a little far-fetched, in my opinion. Despite evidence to the contrary, fans are savvy enough to form their own views on the club they cheer for, and it doesn't take a college degree to realize that losing Choo and Arroyo is going to hurt a little bit.
To be fair, the Reds do have several players who figure to play larger roles this year after previously missing time due to injury. So, it's almost as if Cincinnati added another piece to the puzzle in that respect. But I'd venture to say it's not the addition(s) most fans were hoping for.