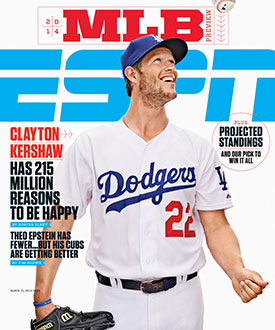 The March 31 edition of
ESPN The Magazine
features Major League Baseball previews galore. This is appropriate considering how close we are to Opening Day at this point.
Within the glossy pages lies a preview of the National League Central Division. Not surprisingly, the Cardinals are picked by ESPN to finish atop the league standings, with a record of 91-71. However, not too far behind them are Bryan Price's Reds, who ESPN predicts will go 85-77 and finish in second place.
The four-letter network factored in a variety of variables aside from roster talent including ego, diversity, and demographics. Cincinnati boasted 84 wins before these latter factors were mixed in with the equation. Basically, it was determined that Cincy's team chemistry would add one total win to their overall record. That might not sound impressive at all. But consider this: Every other team in the division saw their overall win total decrease because of team chemistry as opposed to increasing like the Reds. Yes, even the Cardinals, who began at 93 wins before chemistry variables were inputted.
One important thing to note is that this preview was done before the scary injury occurred to Aroldis Chapman. So, that could knock down the projected win total by one or two.